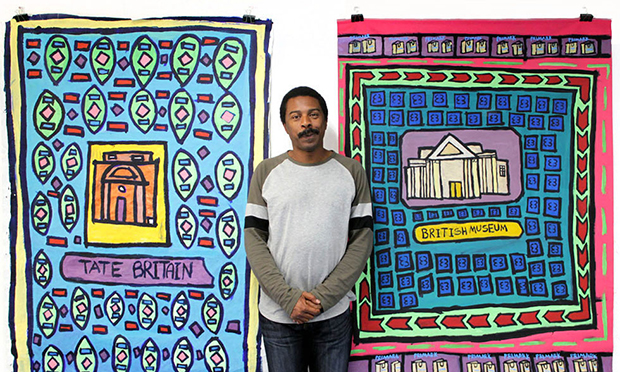 Thompson Hall unveiled as Autograph Gallery's first artist in residence
Autograph, the much-loved Shoreditch gallery, has announced that Thompson Hall will be its very first artist-in-residence.
The residency will take place from January to March 2022 at Autograph's Rivington Place, supported by the non-profit organization ActionSpace.
Hall was selected to support the development of his creative practice; during the coronavirus pandemic, the artist created large-scale acrylic paintings and pastel drawings to explore his daily experiences.
Hall said: "I am looking forward to the residency because it gives me the chance to have time to express myself. "
The three-month residency was described as an "indefinite opportunity" with no expected result from Hall's work; rather, the artist will have the possibility of letting the work be guided by his own artistic vision.
Hall's patterned compositions are characterized by their use of vivid colors, described as "spontaneous" and guided by the emotions the artist wishes to invoke.
His most recent work draws on social change, inequality, marginalization and the impact Covid and the resulting blockages have had on its immediate environment, as well as the broader political landscape.
"When I use color, the tonal light reflects the tone or mood inside the painting so people can view it," Hall said.
"[I try to] create a feeling or emotion and get people thinking about the topics [I'm focused on] are.
"Even though the subjects can be horrible, I'm doing my best to clear it up."
Hall will have a private studio, travel expenses, fees to fund the residency, a budget for materials, production support, and access to Autograph's collection of photographs.
Dr Mark Sealy, Autograph Director, said: "Over the past year or so, I have had the privilege of knowing and sharing my thoughts with Thompson Hall.
"It was a journey through words and images. His work in our time is urgent and urgent and I am delighted to have him with us for this residency.
This first on-side residency is the product of Autograph's continued collaboration with Project Art Works on the EXPLORERS project; this national creative program seeks to increase the visibility and representation of neurodivergent artists in the world of contemporary visual arts.
Autograph's Transforming Leadership program in collaboration with Shape Arts, which works to break down barriers faced by marginalized artists, also enabled the gallery to launch this first residency.
For more information on Autograph, visit autograph.org.uk.
To see examples of Thompson Hall's work, visit his page on ActionSpace here.