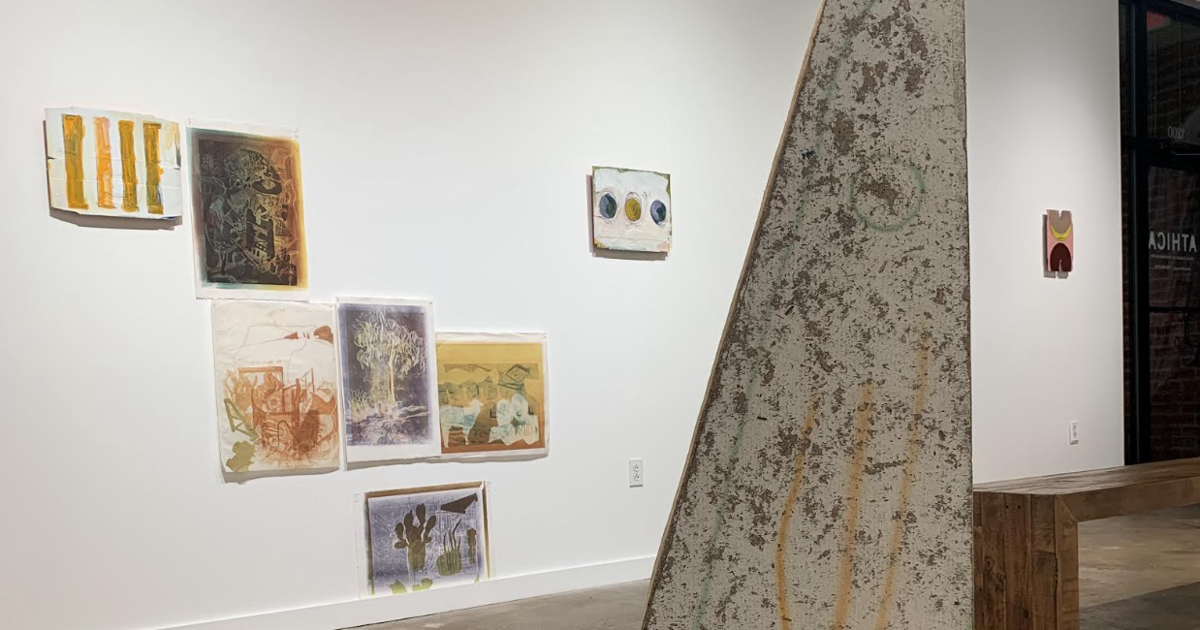 The power of 3: this season's TRIO exhibition at ATHICA | Arts & Culture
They say the best things in life come in threes. The latest exhibition from the Athens Institute of Contemporary Art is no exception.
Organized by ATHICA President and Chair of the Exhibition Committee, Jon Vogt was looking for three artists to express their creativity in a joint abstract exhibition.
"The ATHICA exhibition committee meets and decides which artists we would like to group in a DUO or TRIO exhibition and which artists would have a solo exhibition," Vogt said.
As its title suggests, TRIO consists of three artists – Sara Hess, Jon Swindler and Dana Jones. Many artists request to showcase their art in the space, but what makes this trio unique yet cohesive is the placement of the works and the found material used to create the three artists' collective pieces.
"One of the reasons the exhibition committee identified Dana [Jones] with Sara Hess and Jon Swindler, there was this sort of freedom in their making in terms of found materials and found objects," Vogt said.
Hess and Swindler met at the University of Georgia Lamar Dodd School of Art where Swindler currently teaches while Hess studied for his undergraduate degree in studio art.
"I took Jon's [Swindler] litho[graphy] class my last semester of college and we started collaborating the following summer in the print shop," Hess said. "We worked together on a stone lithograph and have been collaborating ever since."
Hess and Swindler's work, from their contrasting prints to their abstract sculptures scattered across the exhibition floor, paired perfectly with Jones' work. Jones opted for a more visually balanced angle, creating small abstract paintings on recycled cardboard canvases.
"[Jones'] the work is more traditionally hung at eye level and his paintings are on recycled materials, mostly cardboard packaging in this case," Vogt said. "I think he just finds the beauty in the surface and they offer weird shapes that are close to rectangle but obviously break that rectangular edge."
Accepting accidents is also essential to the creative process of these artists. On the right wall of the exhibit, attendees will see the odd location of one of the carvings near the floor. This placement occurred when Hess and Swindler accidentally dropped the piece and spontaneously pinned the artwork where it naturally fell.
"I remember when that impression fell, I feel like Swindler and I both really like embracing those serendipitous moments that happen in collaboration and in the making in general rather than being judgmental or seeing something like a mistake," Hess said. "Sometimes I feel like the most interesting thing that happens is these crashes."
The exhibition consists of two rooms filled with works by artists. Vogt grouped the prints of Hess and Swindler according to color and shape in vertical clusters around the room. Jones' work is self-contained and spaced out in an attempt to appear balanced with the pieces of Hess and Swindler while embracing the element of visual chaos.
"Jon, when opening, was describing that a lot of them feel like they're in an unfinished state and they're less worried about bringing it to a finished state," Vogt said. "So maybe it will end in the exhibition."
TRIO will be exhibited at ATHICA until October 2, 2022.