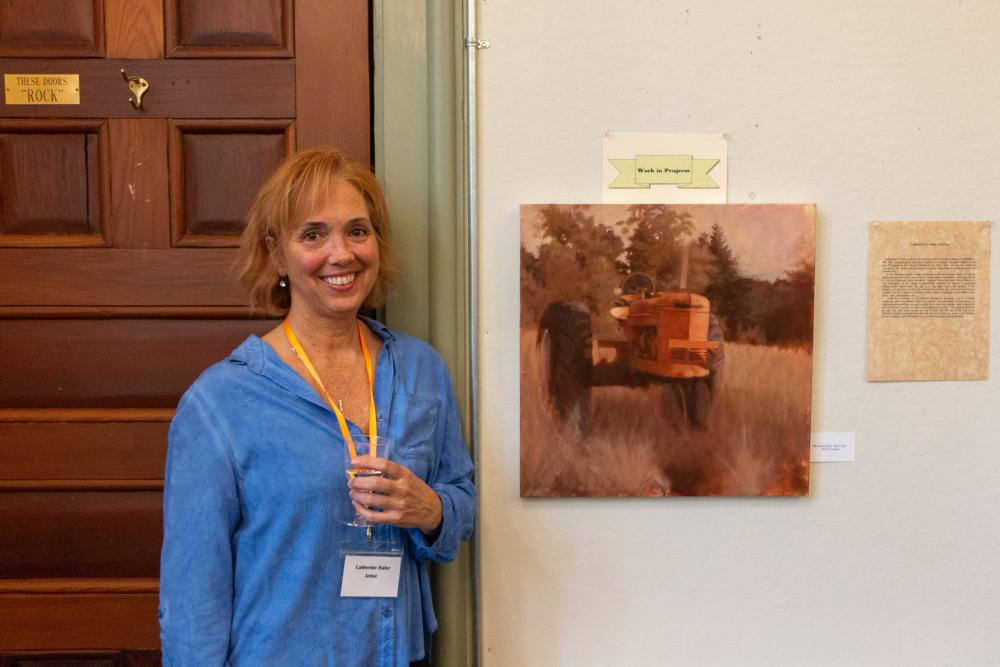 The Cultural Center welcomes an artist from Westport for a solo exhibition
The Dartmouth Cultural Center hosted its third exhibition of the year on Saturday May 7 with a reception with Westport-based artist Catherine Shafer, whose oil paintings and pencil sketches now adorn the centre's walls.
Shafer has described her work as "capturing personality and bringing feelings to life."
Most of the 21 works Shafer has exhibited at the center are portraits of people or pets, but that doesn't mean they're limited to purely realistic representation.
"I don't just rely on what's there," Shafer said, explaining that she often changes color schemes and small details to recreate a feeling — not just an image. "In some of my pieces, there's a lot of stuff behind them that people don't know about."
Shafer illustrated this point by referring to a portrait titled "Through the Eyes of the Artist," which depicts a young woman with curly hair and bright eyes, captured almost entirely in rich auburn tones.
Shafer said she painted the piece for a friend of a friend who was going through tough times and needed someone to help her see the beauty in her life.
She said she painted the subject's eyes a little more open than they actually are, making them look a bit like the artist's own eyes to emphasize that beauty is in the eyes of the beholder.
"A lot of them have a bit of me in them," she said.
The title of Shafer's exhibition is "Beauty Is", which the artist says speaks to the depth and variety of his subject matter.
"Artists don't just want to paint pretty little pictures," she said. "Beauty is everything – even bad feelings. I want to paint deep things.
Shafer used the example of one of his works in progress, a painting in warm sepia tones of an old tractor standing reliably in a field of tall grass. She said something about the old machine just spoke to her.
"It's that old tractor, but it's probably better than any new tractor you could find," she said. "I am the tractor. I always go there. I'm still chasing my dreams.
The artist's works will be exhibited at the cultural center for the rest of the month. Most coins have a sale price.
The gallery is open Thursday through Saturday from 11 a.m. to 3 p.m. For more information, visit www.dartmouthculturalcenterinc.org.