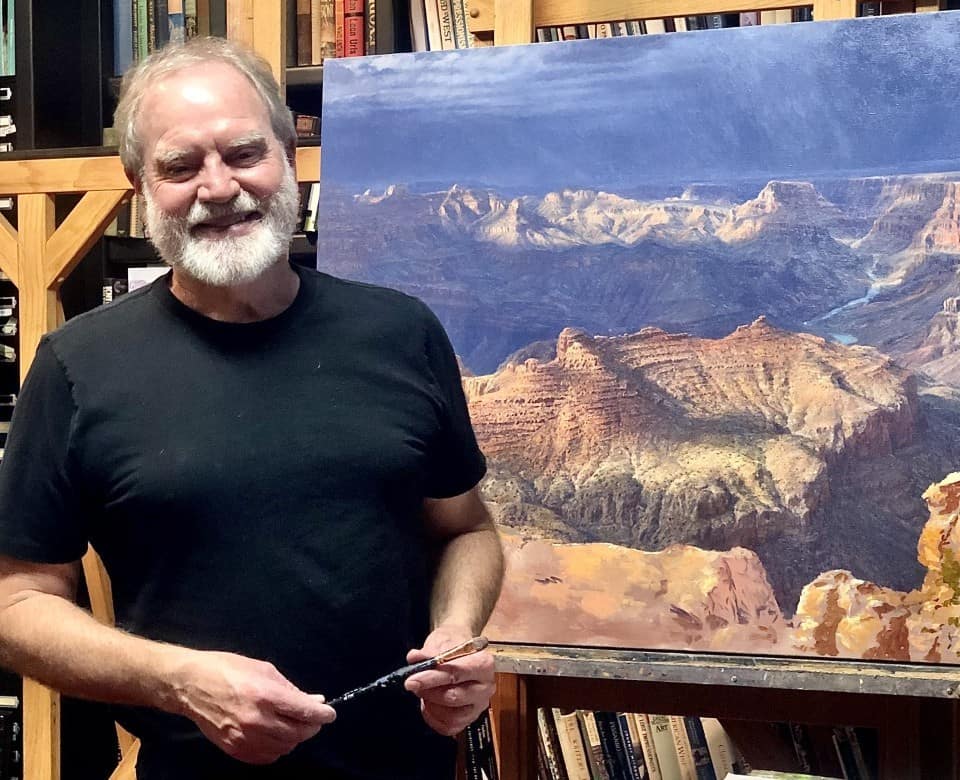 Sedona painter hears the call of the Grand Canyon
The call of the canyon may just be a melancholy echo to some, but for prolific painter Curt Walters, the call of the canyon is so much more.
Walters is known as the "Grand Canyon Painter," a title he has grown accustomed to, although he has said he would rather be recognized as an American painter.
"This is who I am and what I am, however, my career has covered a lot of topics – not just one topic. So it's wider than the Grand Canyon, but if you have to be marked with something, I guess it's as good as anything, "he said.
Walters has been in love with the Grand Canyon for over 52 years. He first visited the Grand Canyon in 1969, right after high school.
"My dad bought me this amazing car, hoping it would keep me in Farmington, New Mexico, where I grew up," he said. " But that did not work. I moved into an apartment I could barely afford, got a bus job in the little cafe, and took my tip – $ 10 in quarters – and off to see the Grand Canyon.
He said on every visit, which is quite common, the canyon is never the same.
"My first paintings weren't that good. I went through a period when I was trying to figure out how to paint the Grand Canyon. I imitated the work of Thomas Moran and Wilson Hurley, painters I admired, "he said.
Walters said the canyon's colors change depending on the weather, time of day and seasons, creating different hues on the canyon walls.
"It's always different. I've never seen him the same way twice. I'm in atmospheric conditions and I really enjoy checking the weather forecast every morning to see what's going on at the Grand Canyon. If it's really stormy, I'll head in that direction, "he said.
It's not uncommon for Walters to get up at 2 a.m. and head to the Grand Canyon with his 38-year-old partner, Tom Dailey.
On every trip to the canyon, Dailey will walk with Walters, sometimes up to 6 miles or more, before the perfect spot is chosen. He will then take photos and videos documenting Walters as he draws or paints.
"Tom likes to come with me. If he can he does, but most of the time I'm going to go alone and spend the day painting and coming home that night, "he said.
Dailey's photography and videos have been a vital part of documenting his career. Walter's daughter Miranda Foreman made a film about her father's journey a few years ago. "Painting the Air: The Life and Art of Curt Walters", was screened at the Sedona International Film Festival. The film was cathartic for Walters – and a proud moment – as he spoke about his life and childhood struggles with dyslexia.
Painting as narration
"Somewhere in the mix of creating this painting, all of the things I tend to fear inside are bubbling up and coming to the surface. As I paint, I won't know what that means then, but I will later, "Walters said. "If there's one painting that really describes how I was feeling right now, it's this one. "
Walters refers to his participation in this year's West Prize, "Antagonistically Beautiful," which he called very melancholy. The canyon was filled with forest fire smoke and barely visible, unlike most of Walter's paintings.
"I was expressing my feelings of containment – especially during COVID-19," he said. "It is also a declaration on the state of the forest in the face of climate change. Smoke was rising from forest fires in California. We had a summer without rain. In this painting there was something so beautiful but devastating.
Walters said half of West's Prize audience understood the painting, while the other half just looked at the aesthetic, noting that it was Impressionist.
Western Award
Walters made history at the annual West Invitational Prize art exhibition and sale at the National Cowboy and Western Heritage Museum in Oklahoma City.
Walters won the Jackie L. Coles Buyers' Choice Award at the West Prize 2019 for his Grand Canyon painting, "A Chasm Sublime: Plateau Point". Previous to the Prix de West, Walters had won the Buyers' Choice Award seven times, a record. He also won the Frederic Remington Prize consecutively in 2004 and 2005, and again in 2013
It won a double win in 2007 for the Buyers' Choice Award for "Ra's Domain" and the West Purchase Award for "Spring's Caprice," – the only time in show history that an artist has won two awards. for different paintings in the same exhibition.
"I won 13 prizes at the Prix de West – I'm just incredibly lucky. I'm honored, so honored, that they love my job, "he said.
However, for 33 years, before winning an award at the Prix de West, Walters learned that he was not allowed to participate in the prestigious awards ceremony due to his lifestyle.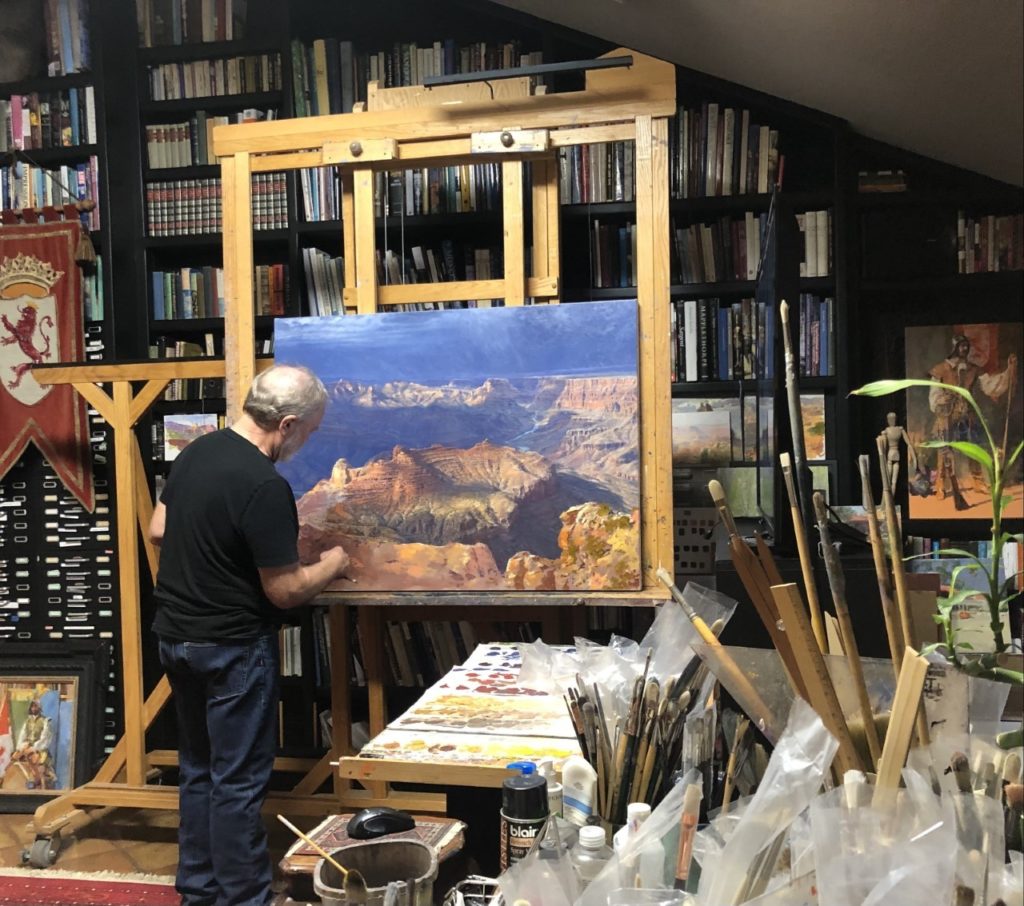 Walter's mentor, teacher and friend Wilson Hurley, one of America's foremost landscape painters, warned him that although he won the Buyer's Choice Award in 2002 for "Grandeur Besieged", he would never win the West Purchase Award.
When Walters claimed this and another award, Hurley gave him a hug and congratulated him.
"I was hurt because I had spent 33 years trying to paint by their rules and now [after finally winning this award]I was free to paint the world as I think it should be painted, "he said.
Ethics of painting work
Walters says he paints every day, at least 12 hours a day. As he pre-mixes his oil paints, using the colors he will use in his palette, Walters visualizes his painting before he begins. Once he takes his brush and touches the canvas, it is transported to the artist's area, where time does not exist.
"One of the biggest questions in art history is, 'when do you know your job is done?' He asked. "Never. At some point you have to say enough is enough and it's hard to stop – I'll start to obsess and have to force myself to stop. If I've repainted it three times or if a painting dragging too long, I will inevitably start repainting it.
Some of Walters' collectors live in Sedona, which allows him to go back and look at his work with a different perspective.
"Once they leave the studio, I rarely see these paintings again – it's a pleasure to come back to see them. I tend to forget the battle of creating this painting, and there comes a time when I can look at the painting with different eyes and I can admire it.
He is currently working on his book "Resilience, the Life History and Grand Canyon Art of Curt Walters".
"It's a table book with a lot of flair," he said. "It's a real story of my life, with real emotions and real people. Sometimes it's not an easy story to tell – there are parts of my life that I was not happy with and I can't shy away from it because it was part of my job. So nothing can be left out. It's definitely worth reading.
In the meantime, Walters is finishing a painting that was recently sold to a couple in Texas, titled "Through Cardenas' Eyes: First View of the Grand Canyon, 1540," acknowledging the irony of the title: After all these years painting a place he has visited a multitude of times, he still looks at it with wonder, always with excitement, always capturing the spirit of this place he loves, almost as if he is looking at it for the very first time.