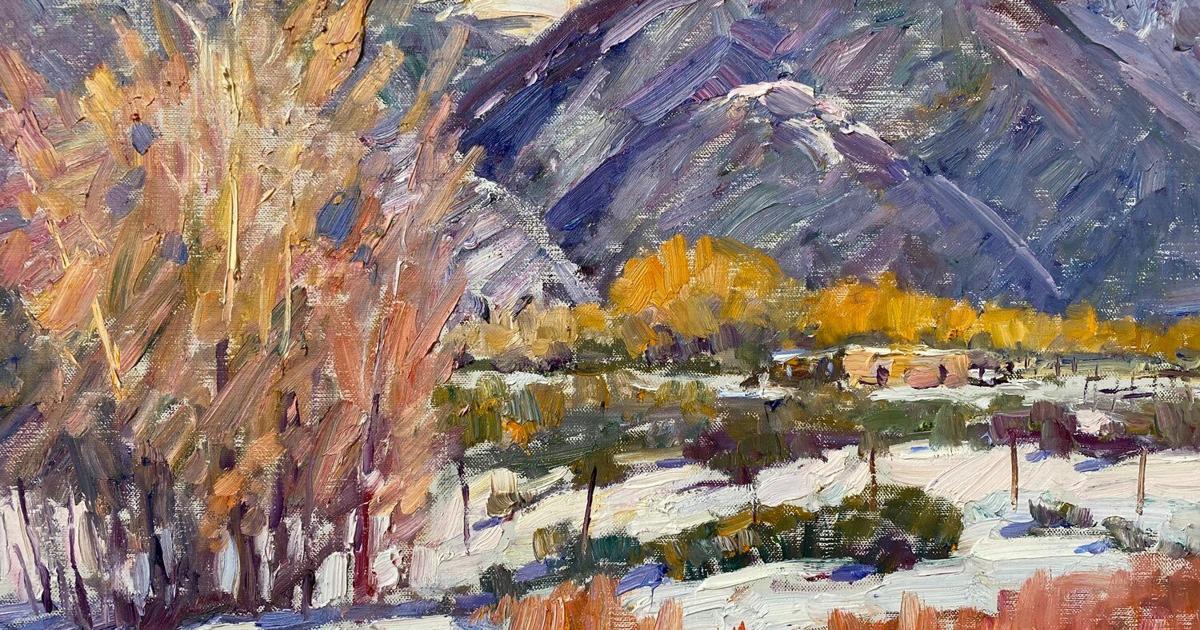 Painting Directly from Nature – New Mexico's Plein Air Painters at the Fechin House | Arts
On Saturday (April 9) from 1 to 3 p.m. there is an opening reception at the Taos Museum of Art at the Fechin House studio for the exhibition The Plein Air Painters of New Mexico Master and Signature Member which will be presented from April 5 to May 15.
Plein air (en plein air) painting has a historical tradition in the Taos area through the Taos Society of Artists and their contemporaries. The Plein Air Painters of New Mexico (PAPNM) are dedicated to the practice, preservation and promotion of this tradition. This exhibition will feature works by Master and Signature members. Signature members must go through a rigorous process to earn the honor, including a blind jury process and achieve specific markers of professional and artistic excellence. Master membership is awarded by invitation.
Christy Coleman, executive director of the Taos Art Museum at Fechin House, said the exhibit was a real treat for museum visitors. "Visitors love PAPNM's exhibits because the artist beautifully captures the true essence of the New Mexico landscape, especially the ever-changing atmospheric light. Their paintings also convey the joy of painting amid the sights, sounds and feelings of nature rather than within the confines of studio walls.
Taos artist Walt Gonske is a master of the outdoors and has a passion for "painting straight from life". His stunning oil painting "First Snow" is among the works in the exhibition. Gonske said it was painted "a few early winters ago". A tradition of painting the first snow of the year is a tradition he has practiced for many years.
"Any decent build up on the court and I'm over there. My favorite time of year is winter until early spring when the flowers come. In the summer, I do floral still lifes in my garden while waiting for the first chamisa at the end of August. I am so happy to see so many artists painting from nature. You grow as a painter much faster, and your values ​​and colors improve. It helped me the most. You can only grow in the studio working from photographs. I tell artists that at least half of your production per year should paint directly from life.
Gonske added: "Outdoors is a challenge – it's done in one go, it's wet on wet, done in two to three hours, with the oils having to be handled with care until they dry. It is the essence of being an artist, of being in direct presence with life, not a photograph or an interpretation but the interpretation of the moment and the mood.
Gonske said his creative process involves losing all preconceived notions of how a piece should turn out, it's especially important to paint straight from life where weather and light are unpredictable elements. This is where he is most comfortable and can "let the unknowable creative spirit emerge". He "interprets nature through his paintings, but does not reproduce it". Rather, he tries "to achieve the same emotional reaction that I'm experiencing right now on the canvas. The painting includes one impulse after another. An expressive painting posed and left alone, a record of all those moments over the course of of the process".
Gonske explored the southwest and beyond for years with a portable French easel and his oils and canvas. He describes the experience of painting in an environment where anything can happen as a raw and visceral encounter with nature, deliberate and expeditious. These days, he roams the Southwest in his Paint Mobile, a modified pickup truck that lets him stay out in the elements longer and be in "stealth mode" when needed in tourist spots.
The Plein Air Painters of New Mexico is a professional association of artists dedicated to the preservation and promotion of plein air painting. PAPNM regularly provides opportunities for members to paint together during painting outings and holds open and juried exhibitions of members' works. For more details on PAPNM, visit its website. https://papnm.org/
PAPNM Core Signatory Members include: Joe Anna Arnett, Bill Gallen, Walt Gonske, Albert Handell, Doug Higgins, Jane Hunt, Peggy Immel, Lee McVey, Paul Murray, Richard Prather, Clive Tyler.
Signatory members of the PAPNM: Carole Belliveau, Tom Blazier, Lyle Brown, Jane Chapin, Michelle Chrisman, Barbara Churchley, Tobi Clement, Barbara Coleman, Charles Edmondson, Kathleen Elsey, Kim Faucher, Damien Gonzales, Lois Griffel, Natasha Isenhour, Susu Knight, Jakki Kouffman, Margi Lucena, Mike Mahon, Susan McCullough, Maryann McGraw, Suzanne Morris, Nancy Silvia, Mike Simpson, Janice St. Marie, Peggy Trigg, Anita Louise West, Thomas Wezwick
The Taos Art Museum at Fechin House is open Tuesday through Sunday from 11 a.m. to 5 p.m. Residents of Taos County enjoy free admission every Sunday. There is no entrance fee to visit Fechin's studio and gardens. Groups of 10 or more enjoy a reduced rate. For more details, visit the museum's website taosartmuseum.org