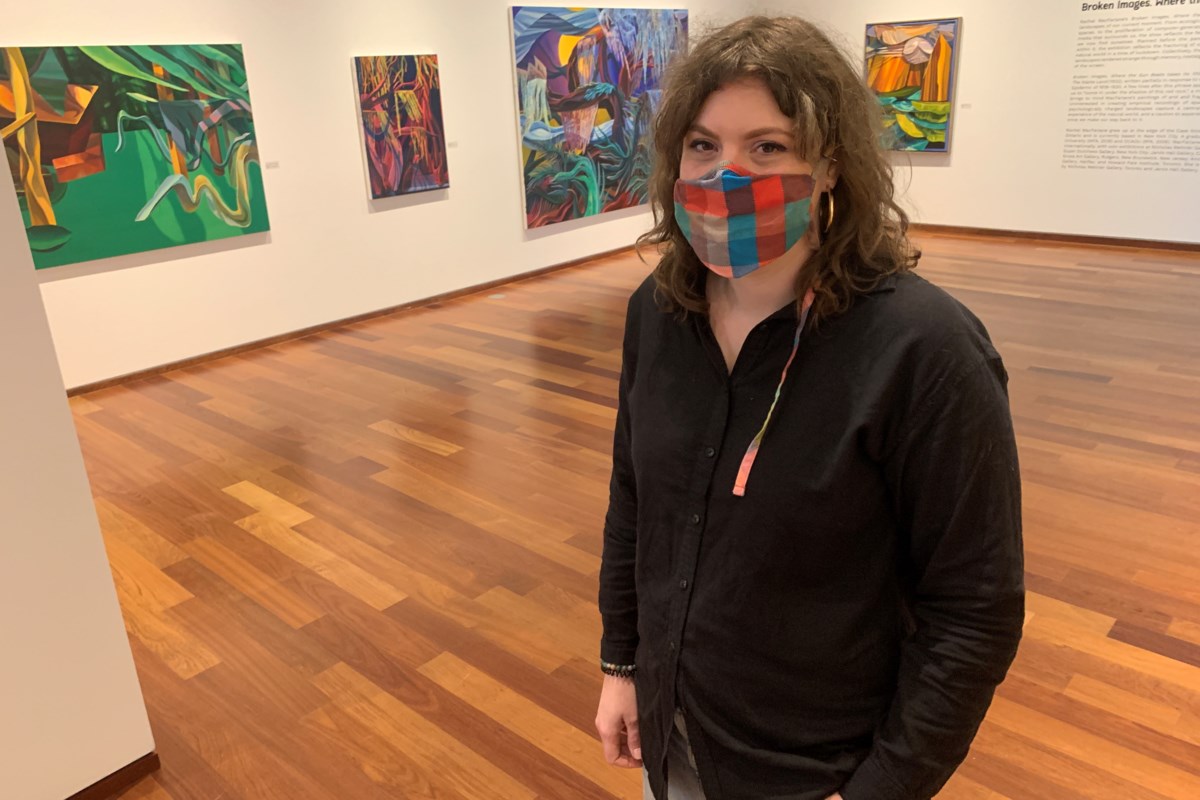 MacLaren's winter exhibition series opens to the public on Saturday
Artist Rachel MacFarlane says each painting is a reconstructed memory from the landscape sites visited
The Downtown Barrie Art Gallery is hoping to have a little something for everyone this winter.
The MacLaren Art Center's winter cycle of exhibitions, which opens to the public Saturday from 2 p.m. to 4 p.m., will include two exhibitions from the permanent collection and two more featuring the work of contemporary artists Rachel MacFarlane and Francisco-Fernando Granados.
MacFarlane's exhibition, titled Broken images where the sun beats, includes 19 tables – which were all created over the past year and a half and relate to the artist's research trips to New Orleans, Arizona and Newfoundland.
"I went out on these excursions … and it was always my intention to go to these sites and then come back to the studio and build models that would try to reconstruct the memories of the places I have visited", she declared.
Each painting is a reconstructed memory of one of the landscaped sites she visited.
"COVID has made that extra layer of being really removed from visiting one of these landscaped sites and (it has become) truly insular. The process of reconstructing landscapes from afar or an urban space, because I live in New York, the meaning has really built a bit more, "MacFarlane said.
In the studio, MacFarlane said she typically works with collage paper and creates postcard-sized boxes to start with, also focusing on lighting and trying to replicate the particular time of day. , weather, cloud formations, etc. to place.
"(I want to) go back to a certain point in the landscape. It's not just about trying to get a picture of the place, but also a feeling of a moment in the landscape, "said MacFarlane.
Friday was the first time MacFarlane had seen all of the pieces together and lit up, noting that it was great to see them all together again.
"My studio is pretty small and to bring them all out and talk to each other… and see what it's like to bring divergent spaces together (that's awesome). It's about really different landscapes and it's a more contemporary experience, "she said.
"I was so afraid it wouldn't work, but I hope it will."
Anchor Point is also featured in the winter exhibits and is a year-long community curatorial project showcasing works from the permanent collection.
The evolving exhibition series "will reveal a glimpse of MacLaren's permanent collection and bring a wide range of contemporary and community voices into dialogue with historical and contemporary art and traditional collecting practices."
Granados Wind rose is the first exhibition in the Anchor Point series. A compass rose is a tool used to navigate the many directions and intensities of the wind at a particular location on a map and is used to chart the way forward in a changing and unpredictable environment.
The evolving exhibition is certainly a different direction for a gallery, but they are excited to see it come to fruition, according to gallery executive director Lisa Daniels.
"We've built new walls to create a new space for different works and different voices to be welcomed into the gallery, and we'll see over the year how that (gets)," Daniels said.
Visitors will have the opportunity to watch the exhibition evolve as the community "thinks, selects and debates" their choices together. They are also invited to give their opinion on the strengths and weaknesses of the permanent collection as gallery officials chart the way forward.
The MacLaren Art Center is located at 37 Mulcaster Street, across from Barrie City Hall.