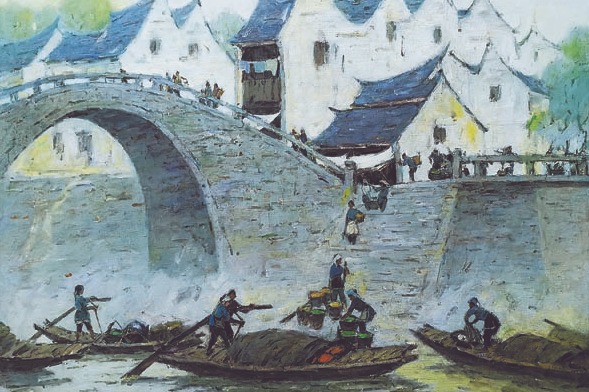 Ma Changli's oil works show everyday life in warm hues
Ma Changli, graduated from the Central Academy of Fine Arts in Beijing in 1953, was one of the first painters to explore oil painting to represent his country and people after the founding of the People's Republic of China in 1949.
While many of his peers approached the subject of socialist construction with great historical narratives in their works, Ma gained a reputation in the 1950s and 1960s for creating a body of work in which he delivered a sentiment. much more tender, private and poetic.
Since the 1980s, his enthusiasm for landscape art has grown. With a rhythmic brush, he depicts natural landscapes across the country in which he orchestrates a symphony of heart and soul.
Feelings of Nature, an exhibition to be held at the Central Academy of Fine Arts through October 7, hails Ma's decades-long efforts to showcase Chinese refinement, poetry and grace on canvas. It opened on September 16, on Ma's 90th birthday, and features more than 120 paintings, drawings and sketches made since the early 1960s.
Wu Xueshan, professor at CAFA, explains that over the decades, Ma has pursued an "atmospheric beauty of the East" in his work, and that he seeks a harmonious relationship between the Chinese cultural spirit and the color palette. and the makeup of the West. oil paintings.
Wu says Ma rarely draws historic sites or a panoramic view of rivers and mountains encrusted with symbolic meanings. For years he has traveled widely across the country and his paintings depict natural scenes or human activities in various outdoor settings that show the vitality and reality of everyday life.