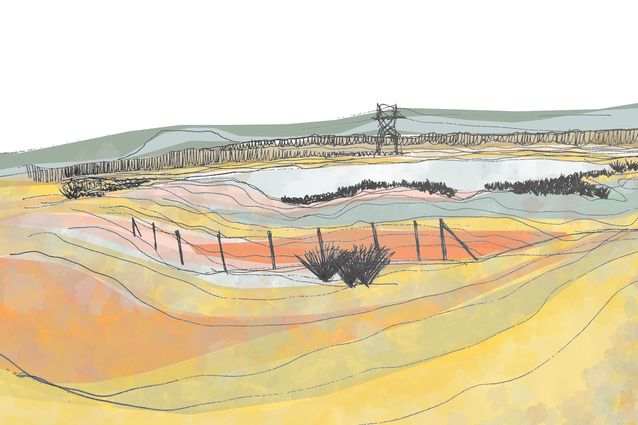 Indigenizing the practice: decolonizing our approach to design
I have one love-hate relationship with the ride to my mom's house. As an indigenous woman whose family has been disconnected from the country due to colonial processes, I am reconnecting, so I relish the opportunity to cross the country and connect the landscape with the cultural knowledge I am learning. . As I leave my home in Gundungurra country, I think about the stories I have been told. I think of the 330 million year old mountains created in the Dream, of the rivers and hills formed by the creative spirits who wake up from their sleep. As I travel through the land of Mulgoa, I remember the stories of the Black Swan people speaking of their plight during the last ice age 11,000 years ago. I admire the beautiful hills and golden plains, imagining the Dharug people cultivating murnong, hunting emu and burning the earth. As I drive along roads that follow the same lines as the ancient murus, I think about the songs and paths the old people have traveled and wonder if my ancestors were one of them. I look across the country and see the impact that colonial land management has had, but I am proud to know that there are practices of reclaiming land and relearning from the crowd. As I travel, I think of the many opportunities to restore these practices and I dream of the ways in which we can reconnect with the country and work together to heal it.
However, as I walk through these beautiful hills towards my mother's house in Dharawal country, my dreams are interrupted by the continued colonial onslaught. The rolling velvet hills give way to seas of black roofs, their encroaching shoreline marked by the tides of newly cleared patches of terraced land. It's as if the rolling hills never existed. The opportunities for this generation and the next to work together to heal the country, to reconnect, are disappearing. The country has been erased. Nothing. Ripped and flattened, ready to be replaced by the suburbs.
As a landscape architect, I am alarmed by the developer-led urban sprawl that characterizes western Sydney. The ecological and social compromises with urban sprawl are well known: food security and loss of biodiversity, urban heat island effect, increased energy consumption, unsustainable changes in flow regimes, increased burden of waste and traffic pollution, to name a few. From a place creation perspective, the status quo approach to suburban development often leaves a lot to be desired: new streets are ubiquitous and without a place, with little to distinguish one new township from another.
As a first-time home buyer, I understand the allure: affordability and space, and in some cases relatively convenient access to amenities (including some star parks). While these benefits come at the cost of long journeys, more extreme weather conditions, and perhaps the loss of the vibrant culture of urban villages, I understand the need for space and affordability. I sympathize with people moving into these insta communities, but I think there are questions to ask of the developers and the mechanisms that have made these types of developments the norm. With Greater West Sydney expected to house over 50% of Greater Sydney's population by 2040, we can and must do better. The country deserves more.
For an indigenous woman, the trade-offs of this type of development run much deeper. They represent the ongoing violent colonial occupation of the country – the human-centered approach typical of Western habitations imposed on sacred Aboriginal lands regardless of our continued connection to the country. This type of development works to erase histories and physical connections with our ancestors; it threatens the habitat for ourselves and our parents – plants and animals – prevents reconnection of present and future generations, and presents a lost opportunity for the community at large to learn more about the culture and know the country .1 In the name of developer profits and housing affordability, sacred rights and bonds continue to be damaged and intergenerational trauma continues. These developments go against our fundamental principles of caring for the country. They take too much and give too little.
While in Western paradigms the land is seen as an abiotic environment on which to grow and build, indigenous concepts of countries are much more holistic. We see the Country as a parent and an agent, while also being a place of healing, a place of belonging to which to return. The country connects us to the Dream, to our ancestors and to future generations.2 The rights and responsibilities associated with Country are eternal and cannot be sold, bought or traded. We have duties, rights and obligations to keep him in good health; in return, Country takes care of us. In this paradigm, we exist on an equal footing with plants, animals and insects; we are all parents and have a role to play in keeping the system healthy. In this regard, our worldview is highly relational, focused on interdependence and the ideals of reciprocity and shared responsibility. The practice of caring for the country – effectively the design and management of the landscape, but also much more – is an integral part of the expression of culture.3
As such, the human-centered land development that characterizes the suburban sprawl is in direct contradiction to our cultural practice and ethics and presents a continuation of colonial processes that seek to take too much of the country. In order to dismantle these colonial processes, collaboration with indigenous peoples and the practice of caring for the country must be integrated into the design processes, outcomes and protocols. To this end, policies, literature and approaches are being developed to guide the design with the country rather than against it. Last year, the New South Wales government architect released the interim framework for connecting with the country. Developed in collaboration with leading First Nations scholars, knowledge holders and designers, the document provides a framework for change. For a rich and deep understanding, I invite you to consider the founding work of Danièle Hromek, a leading Indigenous scholar and fellow Budawang, whose thesis The (re) indigenization of space: weaving narratives of resistance to integrate Nura [Country] in design4 provides an in-depth look at the complexity of countries and indigenous relationships with space.
At my workplace, Arcadia Landscape Architecture, we have developed and improved our methodology and collaborative design approach to develop authentic Indigenous landscape strategies. When I was asked to give my perspective on suburban development, a project we are working on in Awabakal Country came to mind as a prime example of collaborative Indigenous design. For this project, we engaged from the start with local indigenous authorities and traditional owners to develop a series of design strategies and protocols that, if followed, could result in a new type of suburban development. – one that works with Country, in partnership with the community.
This process was a new experience for the cultural collaborators and was an enriching and educational process for the design team, who are learning more about the First Nations culture and country every day. Through a collaborative approach, we have developed a series of design strategies that consider people in the context of the country – protecting sacred sites and trees, keeping ridgelines free and fair of access, and protecting, conserving and regenerate the habitat of plants and animals. Importantly, the strategies include creating culturally safe places for Indigenous peoples to practice, learn and express their culture and explore opportunities for partnerships that will provide perpetual benefit to traditional custodians. Throughout the design, opportunities for the wider community to learn more about the indigenous country, culture and history, with the aim of fostering cross-cultural exchange, learning and pride in the indigenous identity. Most of the site will be undeveloped bush, with further implications for lot size, passive house design, planting, and materiality to be explored as we progress through the next design stages. . This is an exciting project and, provided the integrity of the original intentions is maintained throughout all stages of the project, it will likely become a leading example of country-focused design – and therefore sustainable design – that , I hope, will work as a catalyst for collaboration. Urban design indigenous to Australia.
What if approaches like this become business as usual? What if the development of the country was done in partnership with the indigenous peoples, rather than in spite of us? Just as the built environment has historically functioned as a spatial expression of colonization, design work can also be a vehicle for change. Recognizing, respecting and valuing indigenous agency and knowledge of the country is an active part of the decolonization of our approach to design, but it also works the other way around: if the industry does not collaborate, it continues its complicity in colonial mechanisms that deny culture and diminish the power of Indigenous peoples. As our agency as guardians of the homeland is inseparable from our culture and our healing, a fundamental step in the rights and advancement of indigenous peoples involves the community at large realizing, learning and acting on those rights which are practiced for millennia. From a pragmatic point of view, if collaboration with indigenous knowledge holders is adopted as a fundamental and continuous approach to urban development, it could generate tangible large-scale benefits for the community as a whole – including ecological benefits, intercultural exchange and knowledge sharing, food security, health and well-being. We need to find ways to live with and in the country – if we keep taking too much, there will be nothing left to feed us.
I recognize and honor the First Peoples of the unceded lands on which I live and work. I pay tribute to the Elders past, present and future, whose knowledge and wisdom ensure the continuity of the country and the culture. Always has been, always will be.
– My name is Kaylie Salvatori. I am a Yuin Budawang woman who works as a Senior Landscape Architect and Indigenous Landscape Strategist at Arcadia Landscape Architecture. I am an artist, designer, partner and mother living in the land of Gundungurra, exploring my relationships and relearning the country and the culture. While my thoughts and experiences are likely shared by many indigenous peoples, unless otherwise noted, the thoughts presented here are my own perspectives as an indigenous woman living in contemporary Australia and are not intended to speak on behalf of the peoples. indigenous peoples as a whole. I thank my ancestors, Elders and Blak mentors for guiding me along my journey and I hope to do my part to give back to the community and to the country.