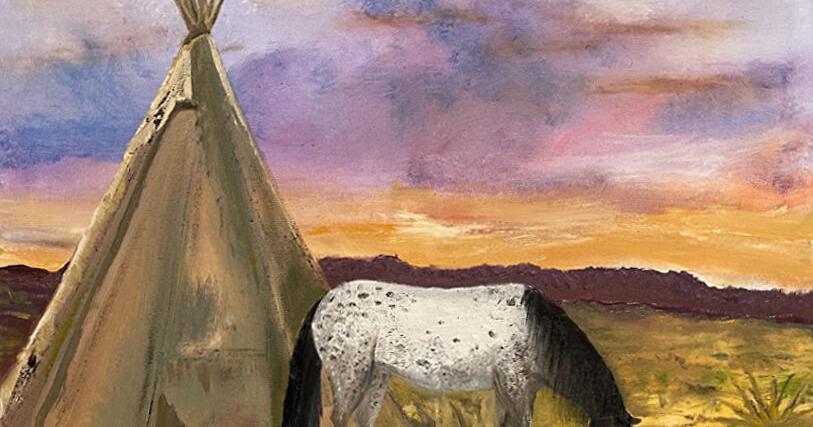 Impasto Oils, Vintage Western Art Featured in Red Bluff Exhibition | Corning Observer
Artist Patty Mackey, well known locally for her cake decorating, was told by people that her cakes were so beautiful they didn't want to cut them and she should start putting them on canvas.
Mackey took that suggestion to heart seven years ago. While taking art classes, she started painting with thick oils because they had the same consistency as glaze. Using a technique called "Impasto", the application of oils gives his paintings a dimensional effect. Her use of vibrant textures and colors bring her subjects to life.
Mackey's Impasto-style art will be featured in the Main Event Gallery's April Western exhibition, "Brushes, Broncos and Buckaroos," alongside Toni Gaylord's Impressionist-style art. It also includes a special collection of original Western and Native American vintage art, plus Wild Art Horses by Tehama Creatives and gallery member art.
The exhibition opens with an artists reception on Friday, April 8, 5:30-7:30 p.m., 710 Main St., Red Bluff. The show runs until May 7.
Mackey has always had an interest in art. Drawing as a child was a way of expressing oneself. Her mother was a professional seamstress and it was there that she learned design and color assembly.
As a teenager, she did a lot of baking and cake decorating, which led to custom orders. Her cake decorating became her art for 42 years.
It was an easy transition to the impasto technique on canvas, which involves applying thick layers of paint with different textures to achieve the effect she wants.
"I not only use a brush, but also a palette knife, paper towels, cardboard, a stick and pebbles or my fingers," she said. "It's actually a lot of fun finding different things to get the perfect effect. That's what makes my paintings unique."
All of Mackey's paintings are freehand. She doesn't draw anything.
Another key element of the artist's paintings are the custom frames she and her husband create for each artwork. Some are dimensional and actually become an extension of the painting. Its specialty is the weathered wood frame with additional accents.
Mackey's Western and Native American art are two of the many subjects she enjoys painting.
"A lot of my ideas come to me in a dream or a vision, or real life events or places, sometimes bringing ideas together," she said. "I am inspired by so many different things, because when you are an artist, you look at things differently. You wonder how I could paint that. I put a lot of love and tenderness in my paintings. They are an expression of me ."
The gallery also features vintage Western and Native American art from Kay Nuss's collection, courtesy of his son Scott Moore and his wife Heather. It will include original works by award-winning Western artist Martin Grelle as well as some of his lithographs and other original Native American art and artifacts, including a vintage saddle.
Nuss met and acquired Grelle's art when she was living in San Dimas and was on the board of directors of the Chamber of Commerce which launched the first annual exhibition and sale of Western art, in partnership with Indian artists. and American cowboys, in 1977. The event was dedicated to preserving the Western spirit through the arts. A young Martin Grelle from Texas was one of the exhibiting artists. While there, he stayed with the Nuss family as many artists did with the locals when they came to town. Son Scott has fond memories of Grelle having dinner with them at their home.
The art exhibit is sponsored by the Tehama County Arts Council. Gallery hours are 11 a.m. to 5 p.m., Thursday, Friday, and Saturday. For more information, email: [email protected]