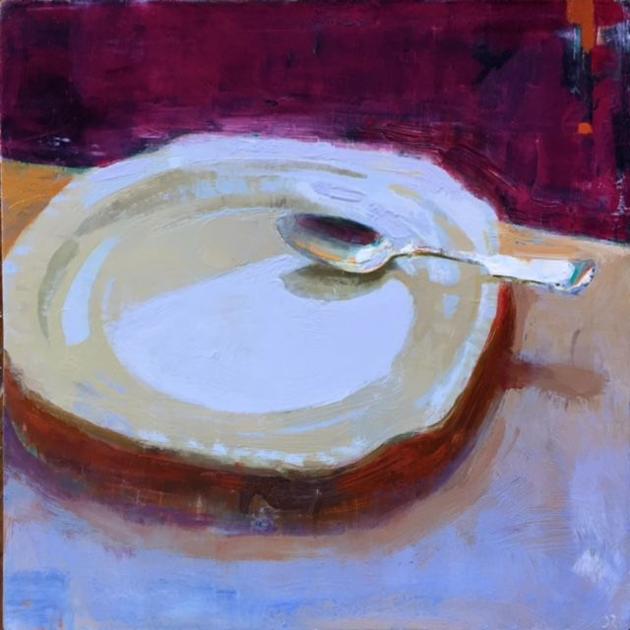 Highland Center's 'Still Life, Life Still': Five Artists Examine Singular Moments | Vermont Arts
Still life has an increased resonance for many of us as we have been sailing for a year and a half. Time sometimes seemed to stand still, its altered rhythm allowing observation and appreciation.
In "Still life, Life Still" at the Highland Center for the Arts in Greensboro, five artists capture moments in ordinary objects – a spoon and a plate, paperbacks, a table by a window, flowers. Four painters and a photographer, artists from Vermont and artists deeply connected with the state, invite us to see beauty and detail and perhaps find symbolism in compositions of inanimate things.
The still life allows the viewer to immerse themselves in this moment captured by the artists, although the artist and the viewer also see its fleeting nature – the shadow will move, the petals will fall and the fish – well, the fish will not. will not stay there forever.
New York photographer Mary Ellen Bartley was in Italy when the pandemic struck, during a residency at Giorgio Morandi Studio and Library. She quickly returned home.
"I assigned myself a quarantine project inspired by Morandi's process of reduction, repetition and restraint," she explains in her artist's statement about her series "7 Things Again and Again".
She selected seven household items related to her experience at the time – a roll of toilet paper, a bottle of rubbing alcohol, a bowl, a mug, a bar of soap, a notebook and a glass cube – and them photographed in different compositions. everyday. There is a calming elegance in her images.
"My studio has become a sanctuary for global anxiety. And things on the table, a calm alternate world, perfectly contained, "notes Bartley.
Books have long been at the center of Bartley's work. In three photographs from his "Summer Reading" series, the viewer sees colored rectangles – the dyed edges of paperback books. No cover or title is evident, but they may recall hands that held them or transport experiences while traversing similar volumes.
Tucker Nichols' bright abstract still lifes of vases full of flowers burst with color and joy. These are flowers that make you smile. A yellow and white bouquet, in the colors of exuberant daisies, looks a bit like fried eggs. In another, a profusion of pink and fuschia springs from a blue vase.
Nichol's paintings in the exhibition are from his ongoing multimedia project "Flowers for Sick People".
"Illness can be a deeply isolating experience for everyone involved… But there is something about flowers – even if they are garish, make you sneeze, or are barely noticed – that can sometimes be dig a hole in the isolation that separates sick people from their loved ones. those, "Nichols says on his website about the project.
Nichols sends small paintings of flowers to sick people – no notes, just flowers. They are requested on his website and he sends them all over the world. In the "Flowers for Sick People" project, he publishes flower paintings on his website, which is dedicated to all kinds of people. Recent bouquets include "for people timidly attached to new routines", "for whatever needed to be said out there", "for San Quentin".
Margaret Sparrow began painting still lifes in her early teens, first descending the refrigerator for subjects, then soon carefully composing her subjects – an attention to detail that continued in her creative career .
In his oil paintings, notably "Tulips and Pears at Dusk" and "Still Life with a Blue Glass Bottle", light enters through a window on objects on and around a small table – a teapot, apples, a recurring blue vase.
"Any object placed on a table, on the floor, on a window sill fascinates me. The calm and the light that surrounds it are of ineffable beauty. But this light and stillness is constantly changing, and what seems stable is, in fact, changing. There's still nothing about it… "says Sparrow in his artist statement.
Jon Redmond notes that as COVID kept him close to home, "I found it heartwarming to revisit and continue to explore simple items that are within easy reach – items on the kitchen counter, a familiar dish in the cupboards or a few cut flowers right outside my front door. Variations of the familiar during an uncertain, introspective and isolating period, "he notes.
In Redmond's oil paintings, layers of color and brushstrokes capture fleeting moments. In "Plate and Spoon (dusk)", look closely and see the many colors – orange, purple, blue – that make this silver spoon glow in the evening light.
Kate Emlen's zinnias are always in the moment of their paintings, but their movement is only a blink of an eye. With a boost from the vase or a breeze, their petal-laden flowers on slender stems will move. His mackerel extended beyond his white plate evokes the sea so strongly that the viewer can smell the salt water nearby.
"Space and objects intermingle in painting," Emlin says in her artist statements, noting the questions she brings to her work before and after a painting.
But, she notes, as she works, "I don't ask for anything while painting. To do it is to think.