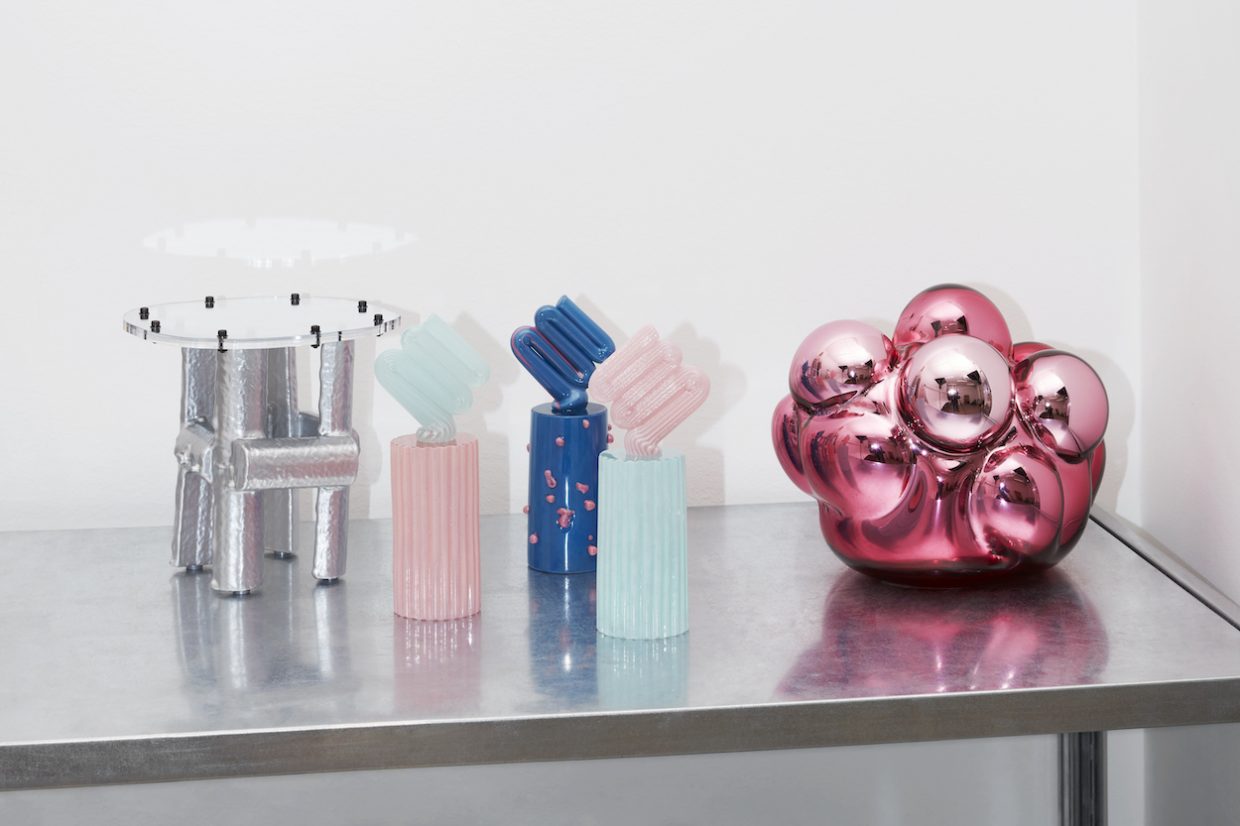 Hem goes experimental with new collaborative platform and other news – SURFACE
DESIGN SEND
Our daily view of the world through the prism of design.
BY EDITORS
March 23, 2022
The Design Dispatch offers essential, expert-written news from the design world, curated by our dedicated team. Think of it as your cheat sheet for the day in the design delivered to your inbox before you've had your coffee. Subscribe now.
Got something our readers need to see? Submit it here.
Hem goes experimental with a new collaborative platform
Objects with an eclectic design do not immediately come to mind when we think of Hemthe direct-to-consumer furniture supplier known for clean-lined pieces whose strength comes from familiar silhouettes and first-rate craftsmanship. But the collaboration has long been in the Swedish brand's DNA, with some of its most recognizable releases brought to life by cutting-edge designers like Faye Toogood and Max Lamb. Acting on his itch to experiment and broaden the horizons of the brand, founder Petrus Palmer has teamed up with the London magazine Modern Design Review launching a series of limited-edition decorative accessories in 2019. A memorable example came from Supergroupwhich debuted with a fantasy landscape of ceramic rainbows, flowers and clouds.
The success of the idea led the brand to launch X-hem, a collaborative platform of handcrafted design objects limited to 100 copies or less. Hem plans to develop an eclectic range of decorative collectibles in partnership with expert curators, like the Swedish interior design collective organize things, which enlisted artist Lisa Reiser for cloud-shaped glass sculptures, designer Jonatan Nilsson for mirrored acrylic plinths, and glassmaker Rasmus Nossbring for polished mini-monument sculptures. "There's a strong desire for authenticity and touch, perhaps in contrast to the screens we have in front of us every day," Palmer says of Hem X. "We like to think that mass production and craftsmanship are complementary, and we love the idea of ​​having both avenues under the Hem umbrella.
Johan Lindsten and Markus Johansson launch a pendant that pays homage to the ark.
Architectural arches are often a source of inspiration for designers, from Stine Aasis curved Cleo chair for Dims to a series of flower vases from LATOxLATO. The latest comes from Johan Lindsten and Markus Johansson, who have teamed up to create a smooth pendant for the Swedish brand Oblure. The seven pillars of the steel luminaire are each equipped with a light source, making it an ideal choice for illuminating kitchen tables, islands, conference rooms and offices.
Shigeru Ban is on the ground helping Ukrainian refugees resettle in Poland.
"Shigeru Ban had worked with students from the Wrocław University of Science and Technology on the influx of Ukrainian refugees who had taken refuge in a converted former supermarket in Chelm, Poland, where they were able to build and install 319 privacy partitions on a four day period. . He now plans to send 800 more screens to refugees sheltering in their now war-torn country. The gesture would have had a huge emotional impact on wary travellers, whose plight in turn captivated the 2014 Pritzker winner well known for his work with displaced populations. —[H/T Archinect]
The SCAD Museum of Art appoints Daniel S. Palmer of the Public Art Fund as chief curator.
"Rising from a series of high-level curatorial positions in New York City to a major teaching museum in the South, Daniel S. Palmer has been named the next chief curator of the SCAD Museum of Art in Savannah, Georgia. Most recently, Palmer was a curator at the Public Art Fund in New York, which he joined in 2016. While there, he oversaw major exhibitions and commissions for artists such as Melvin Edwards, Awol Erizku, Carmen Herrera, Harold Ancart, Tony Oursler and Liz Glynn. —[H/T ARTnews]
VR platform Decentraland will host the "first ever" fashion week in the metaverse.
Virtual reality platform Decentraland has launched Metaverse Fashion Week, a digital fashion week where brands such as The Manufacturer will showcase new clothing collections in the Metaverse from March 24-27. Over the four-day period, Decentraland will host a series of runway shows, afterparties and pop-up shops with brands displaying digital apparel on avatars walking on virtual catwalks. —[H/T Dezeen]
A Tehran museum director has been fired after an artist dove into a pool of oil.
"The director of the Tehran Museum of Contemporary Art (TMoca) was fired earlier this month after an artist performing in the institution's rotunda nearly fell into a metal container filled with oil. Yaser Khaseb swayed above Japanese artist Noriyuki Haraguchi matter and spirit (1977) installation in a harness when his body hit the surface, causing a spill. According to Tehran time, Deputy Culture Minister for Artistic Affairs Mahmud Salari announced that Ebadorreza Eslami-Kulai would later replace Ehsan Aqai as director of the museum. —[H/T The Art Newspaper]
The National Gallery of Victoria will host a new museum by Angelo Candalepas.
The final design for the National Gallery of Victoria's contemporary art space has been unveiled, with state creative industries minister Danny Pearson describing it as Melbourne's equivalent of the Eiffel Tower. Pearson announced the winning design on Tuesday, by Angelo Candalepas and Associates, which includes 13,000 square meters [140,000 square feet] of exhibition space, a rooftop terrace and a restaurant overlooking the CBD, a 40 meter high [130-foot-high] spherical entrance hall and scientific laboratories for art conservation. —[H/T The Guardian]
Christie's will auction a Marilyn Monroe by Warhol for an estimated $200 million.
"Surprising the spring auction and attesting to the enduring strength of premier trophies, Christie's has announced that it will sell a 1964 Andy Warhol silkscreen print of Marilyn Monroe in May for an estimated $200 million, this which would make it the 20th most expensive. work of art from the last century never sold at auction. Announcement of work, Blow Sage Blue Marilyn, represents a significant burst of excitement for a high-end art market that has weathered the coronavirus pandemic largely unscathed. —[H/T The New York Times]