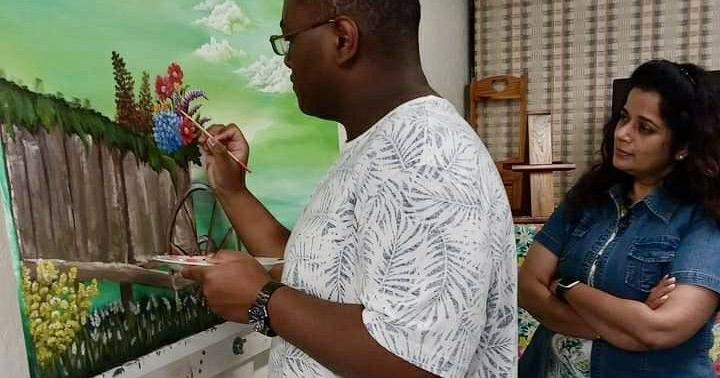 Happy New Year from the Rogersville Local Artists Gallery | Rogersville
The Local Artists Gallery wishes all of its clients, friends and neighbors a very Happy New Year and a blessed 2022.
We are forgoing our normal January artist and instead want to welcome some of our new members who have recently joined us.
Sabra Landry is our newest member who just joined us this month. She comes to us from the State of Florida after retiring as a Direct Care Director for 20 years with a Masters in Public Administration, she has also been a professional floral designer and instructor for the past 30 years. She moved to Rogersville a year ago and started taking painting lessons as part of the Gallery's art classes in September. She says it was a great course and although she has been painting in oils for 36 years, there is always something new to learn. Sabra also paints in acrylics and Chinese brush, but oil paint is her preferred medium. She also continues to be interested in other media such as stained glass, sheet metal painting, floral design and anything that piques her interest. Sabra says she is thrilled to be a new member of the Gallery and delighted to have met so many friendly and helpful people. We have her daughter to thank for bringing her to the Gallery and speaking to the service member, and then encouraging her mother to apply.
Michele Howe was born and raised in northwest Indiana. She and her husband Ralph retired to East Tennessee in 2002. She has been artistic for as long as she can remember and is a self-taught artist. Although she has worked with many mediums, she specializes in "Pyrography" on wood. By popular demand, wood heating has become his preferred method. She has won several awards, including "Best in Show", and has done commissioned pieces all over the United States, Canada and Europe. You can find his work displayed at businesses as well as in our local artist gallery at 124 E. Main Street, Rogersville, TN. Michele's motto: when you receive the gift of art, it is important to give it back.
Keith Utter is a professional photographer and master craftsman. While primarily a landscape and wildlife photographer, Keith also spent almost ten years photographing around 300 concerts. In recent years his interests have transcended into travel and adventure photography. From hiking and climbing mountains to venturing through incredible landscapes, he enjoys capturing and presenting images of places most people will never see or know. -be never. Keith's photographic adventures include many trips to the highest peaks in Colorado, the glaciers of Iceland and the mountains of Ecuador and his coveted Galapagos Islands. In mid-October 2019, he took his adventurous spirit to Tanzania, Africa for a successful attempt to summit Mount Kilimanjaro. After that he spent 4 days on safari photographing in Serengeti National Park and Ngorongoro Crater. Keith has many award-winning photographs from a variety of locations, his photographs have appeared in newspapers such as the NJ Herald, Star Ledger and NY Daily News, and Journal magazine as well as architecture and sports magazines, calendars and websites. The advertisement. His greatest achievement was having a collection of his photographs selected for a permanent gallery at the "Bon Secours" medical center.
Total Therese, Keith's wife, became interested in painting for and once settled into her new home in Rogersville in May 2021, decided to give it a try. She loved the result of the different techniques and the use of many colors, and learned these techniques through various websites and by following several artists. Teresa says she is a work in progress and over the years she has done many projects such as wreath making, ceramics, embroidery, jewelry, and she still wants to try stained glass. Teresa retired from her full-time job with the NJ Department of Education in 2017, but continued to work part-time as house manager for a small concert theater in northern New Jersey until when he moved to Rogersville.
We at La Galerie are happy to have these talented artists with us, and welcome their participation and wish them the best of luck.
As Sabra Landry learned, The Local Artists Gallery also offers art classes. The Busy Brushes is an adult art class that the Local Artists Gallery has been running for the community for over fourteen years.
Currently led by Monica Byington, who herself started classes there in 2015 under the tutelage of Christine Fore who has led the classes since their inception, these classes meet twice a week at The Gallery on Wednesdays from 2-4 p.m. Saturday from 1 p.m. to 3 p.m.
Many members of these classes participated in art exhibitions and even joined The Gallery as Sabra did. This is a great opportunity for adults interested in painting to learn skills in color mixing, composition, painting techniques primarily in acrylics, but also other mediums such as oils, pastels, watercolor and drawing.
Included are the tips you need to make beautiful works of art yourself. The cost is $10.00 per class and most materials are provided. The Gallery also hosts a children's class on Saturdays from 10.30am-12pm, and we are in the process of setting up an intermediate art class for 13-18 year olds.
Please come to your local artist gallery and meet these new artists and see their work and also don't forget our artists who have been with us.