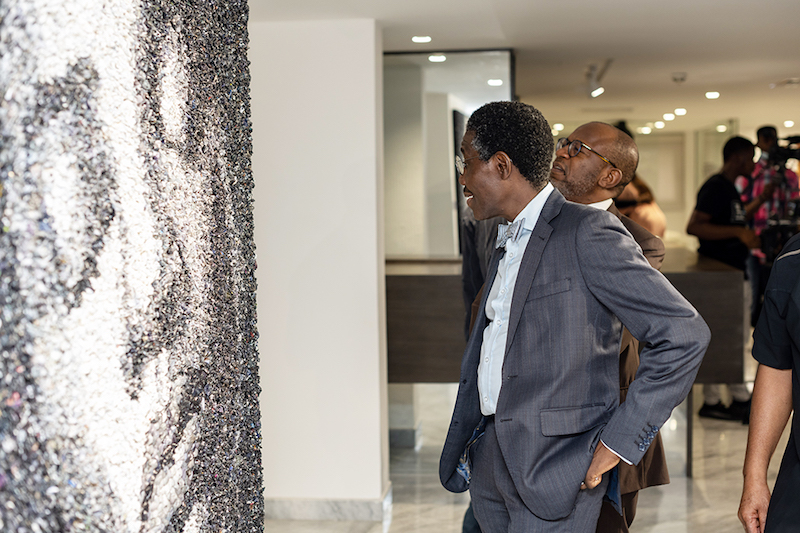 FOR A CORONATIONAL FEE, HOW ABOUT A SNAPSHOT OF THESE TIMES?
With a recent glitzy launch in a chic venue, the Coronation Gallery looks set to fulfill its goal of "democratizing" the art scene. But regaling part of Lagos' artistic community with an exhibition of artwork from the collection of banking tycoon Aigboje Aig-Imokhuede is only a step in the right direction towards its desired, if not very distant, destination. . Reports from Okechukwu Uwaezuoke
Shouldn't the zeitgeist have been the curatorial anchor of this exhibition? At least that would have served the herd of posh and dapper visitors, who were led through the salubrious lobby of the main building of Coronation Plaza on Lagos' upscale Victoria Island on Friday, May 13, as an infallible guide. Otherwise, what else would have in common the beauty of visual expressions in various media by mostly Nigerian artists and a handful of others from South Africa, Ghana, Cameroon and Uganda? Indeed, the "zeitgeist", a term which translates as "the spirit of the time" and which often goes back to the German philosophy of the 18th and 19th centuries, is reworked with ease in these works, for the most part paintings.
Perhaps, if used in another setting or circumstance, the word would have been superfluous, if not downright intrusive. But in this case, besides the fact that they had privileged access to selected works in the private collection of the Aigboje bank magnate Aig-Imokhuede, it gives the guests an additional advantage. And it is the realization that there is an increasing blurring of cultural boundaries, perhaps differences, among a young generation of African artists, who seem to draw inspiration from a common center of creative power.
A few useful words about Aig-Imokhuede: Beyond his exploits as former CEO of Access Bank, which was preceded by a distinguished career that propelled him to the pinnacle of corporate eminence, he has was raised in an art-friendly environment – both parents being renowned figures in the local art scene. As the story goes, he began collecting art at the age of five, barely out of his early years, and has since nurtured that passion for over half a century, which was as eclectic as it reflected his ideals.
Under his leadership, the Access Bank Group carved its way into the consciousness of the artistic public as a major sponsor and strong supporter of visual artistic endeavours, making its support of Africa's premier art fair legendary. of the West, Art X Lagos. Is it any wonder that now that he's at the top of Coronation Capital's corporate ladder, he's expected to replicate that same largesse?
Surely it should have been clear by now that the exhibition was organized by the Coronation Gallery, which is part of this corporate giant. Thus, everything added up that the business evening on Friday was doubled by the official launch of the gallery. Speaking about this gallery, Aig-Imokhuede revealed that she would have a space wherever a Coronation office building exists and that works from other collectors' collections would have their moments of glory in these spaces.
It is therefore not difficult to see how he intends to "democratize" the appreciation and collection of art. Still, as an icebreaker, this penultimate Friday night vernissage could at best be seen as a good step in the right direction to a far-distant destination. Indeed, the general public's deep-rooted reluctance to appreciate art would need more than such token, albeit well-meaning, gestures to dissipate it so quickly.
Back to the works, which, according to a statement from the gallery, "have been carefully extracted from the generously loaned private collection of Mr. Aigboje Aig-Imokhuede." They eloquently testified to a dynamic contemporary art scene, endowed with an ever-growing pool of talent. That the collector, who is known to be well acquainted with the works of art luminaries such as his childhood icon Ben Enwonwu, Aina Onabolu, Yusuf Grillo, Obiora Udechukwu, Uche Okeke and El Anatsui, among others, seems in love with the works of these young artists, offers a glimmer of hope for the future of the local art scene.
Unsurprisingly, Peju Alatise's exciting 70 x 92-inch mixed-media offering (metal, stone castings, and acrylic paint), titled "Sticks," held court in one corner of the spacious lobby. But then it was just time for aficionados to notice other headliners in the exhibit space.
Among these, the two oil paintings on canvas from 2021 by Ugandan-born Henry Mzili Mujunga, "Life through plants" and "Children through plants", are worth highlighting. in light. Could it have been a coincidence – or due to a deliberate decision by the curator – that it was placed next to Ndidi Emefiele's 2020 48 x 40 inch acrylic on canvas titled 'Celestial Diners' III?
Yet next to the paintings by these Ugandan artists, on the adjoining wall to the right, the 2021 monochrome acrylic on canvas painting by South African Manyaku Mashilo, entitled "The Bride and the House of Unfinished Dreams", stands out. is affirmed. Then followed Olawunmi Banjo's 2020 48 x 40 inch diptych oil on canvas paintings, "Moments III" and "Moments II", depicting human figures in acrobatic poses that appear to be unraveling electrical wires with which they were assembled.
Perhaps not a few among aficionados, for various possible reasons, would argue that Bunmi Agusto's triptych, titled 'Longer Throat', was among the most exciting works in the collection. It is, by the way, the work that features three identical stylized human figures, with long exaggerated necks, looking upwards and encrusted on a background of traditional Yoruba aso-oke textile patterns in red and black stripes.
Farther away and adorning an adjacent wall, Oluwole Omofemi's blue-themed polyptych portrait of slain African American George Floyd, whose 2020 death sparked waves of anti-racism protests around the world, has gave curious viewers good reason to linger long enough before. . This is likely because there were hidden words in Floyd's slightly open mouth in all nine portraits.
Omofemi's other work, a 2020 oil on canvas painting titled "Inspiration", deserves an equally long viewing time, albeit out of curiosity. In the painting, a young girl with curly hair and wearing a floral dress with spaghetti straps supports the viewer and is huddled with four bare-breasted young men in front of a stag-headed figure.
In a class of its own, Babajide Olatunji's 2021 charcoal and pastel on paper painting, 60 x 82 inches, titled "Tribal Marks Series III", was well placed in the room to be duly recognized by gushing aficionados. The lifelike details of the artwork and the artist's skillful manipulation of mediums should be reason enough for this.
Likewise, much of Chike Obeagu's 2021 mixed media (folded paper on canvas) proclaims her industry and creative depth. These qualities should earn it a place among the most engaging pieces in the room.
Meanwhile, art audiences eagerly await Coronation Gallery's promised follow-up exhibitions, which are expected to be held on dates yet to be announced before the end of the year.