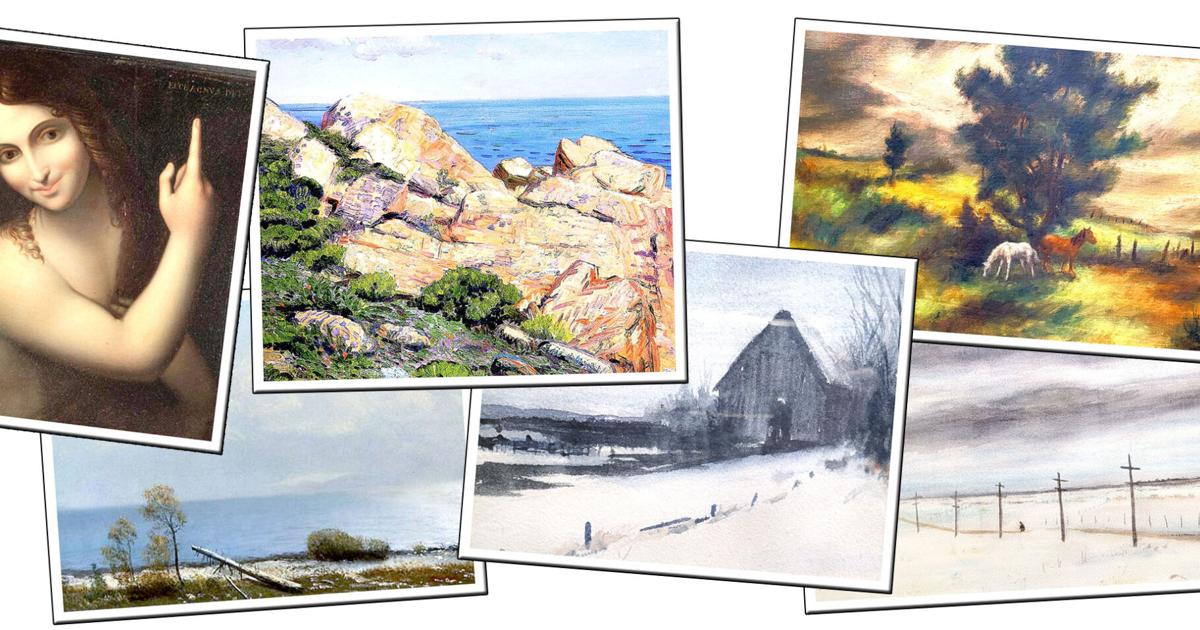 Double exposure | Bedford Museum presenting works from its permanent collection | News
Works from the permanent collection of the Southern Alleghenies Museum of Art are presented in a double exhibition.
Works by Edward Glannon are on view until May 15 at the first-floor Titelman Galleries, and "Highlights from the First 10 Years" is on view until June 19 at the second-floor SAMA-Bedford Regional Galleries, located in the Anderson house. , 137 E. Pitt St.
Beverly Hartnett, SAMA's registrar and collections manager, said exhibiting the exhibits together is a way to showcase American artists in a complementary way.
"It shows how American artists have interpreted society and the landscape around them," she said. "It introduces people to south-central Pennsylvania that this is how artists in this country have approached the world around them.
"By looking at their art, you may find new ideas or be introduced to things that may never have crossed your mind or experienced before. These are artists you might be interested in researching.
Glannon, born near Pittsburgh in 1911, was a painter and printmaker, known for his meditative landscapes.
"He describes growing up in a deep, narrow valley in Pennsylvania, and that experience introduced him to landscapes and their expressive power as an artist," Hartnett said.
"As a teenager he went to the Carnegie Museum of Art and that was one of the stages of his training as an artist, and now we see him showing his work in a museum in Pennsylvania."
Imbued with a quiet poetry, Glannon's paintings exude an aura of brooding reverie. In an emotional tone, many of his works recall the landscapes of Glannon's near-contemporary Andrew Wyeth, Hartnett said.
He studied at the Art Students League in New York, and in the early 1930s traveled west with the Civilian Conservation Corps.
Eventually settling in Roslyn, Long Island, New York, Glannon continued to seek her subjects across the United States, painting in locations from Utah to Florida to Maine, she said. declared.
He was also active as a teacher and for many years was an instructor at Riverdale and Roslyn in New York.
Hartnett said SAMA acquired Glannon's work after a former curator contacted his children.
"They were in an ongoing process to make sure their father's work made it to the institutions to preserve them," she said.
"Prior to this acquisition of paintings and prints, we had earlier works by Glannon in our collection, so this expands our collections of his work."
The exhibition presents 41 landscape pieces by Glannon.
"He worked in oils, watercolors and lithography," Hartnett said.
"What's really fascinating about the oils is that he grinds and mixes his own oil paint. He was very committed to every process of artistic creation, and for him, making oil paintings was as much for him as a craftsman as it was for him creating the painting. Additionally, a number of the works on display are in frames he designed and made.
She said that when she chose Glannon's work to feature in the exhibition, she went with the most striking landscapes he created.
"Some of the little watercolors are fascinating because they were little studies he did to maintain his skill, or he wanted to capture an idea he wanted to explore later," Hartnett said.
"There is a series of small watercolor studies of dried leaves that fascinate with detail."
She said she hopes viewers seeing Glannon's work will understand his interpretation of different landscapes and regions, as well as the different materials he used.
"In some cases you can see where he did a landscape in oil or watercolor and then tried to make a lithograph of it," Hartnett said.
"He was constantly exploring, and even with the smaller landscapes, there's still a really big scale to them.
"This particular area has all kinds of amazing landscapes, so when you're on the go, you can look at those landscapes around you with new eyes."
"Highlights from the First 10 Years" features selections from the permanent collection acquired in the 1970s.
In addition to featuring the works of notable American artists such as John Sloan, Albert Bierstadt, Charles Burchfield, Walt Kuhn, Paul Cadmus and Sylvia Beckman, the exhibition also features a print by Pierre-Auguste Renoir and an artist's study of 16th century on a painting by Leonardo da Vinci of Saint-Jean-Baptiste.
The exhibit demonstrates SAMA's core mission to promote American art and broader art history to the local community.
"This exhibit shows the initial core around which we built our collection," Hartnett said.
The exhibition includes 40 pieces in various subjects and mediums.
"We mainly do etchings, prints and painting," Hartnett said.
"We have a series of prints by Sloan, and he was one of the founders and leaders of the Ashcan school which was active in the early years of the 20th century, and they focus on scenes of daily life in the big cities.
"This particular series of prints we have is fascinating because it depicts people living their lives in New York City."
In selecting the pieces for the show, Hartnett said, she sought out distinguished performers.
"Even in our very early days, we really made an effort to bring notable artists into the collection," Hartnett said.
She said the show shares the history of the museum with the audience.
"We want to build a collection that will appeal and inspire our visitors and educate them," Hartnett said.
"We don't want these paintings and works to be things that fell from the sky one day. We want to interact with viewers and give them an insight into the works. We want with this show from our first collection to inspire.
Museum hours are 12:00-4:30 p.m. Wednesday through Sunday.
Admission to exhibitions is free.
For more information, call 814-589-3020 or visit www.sama-art.org.