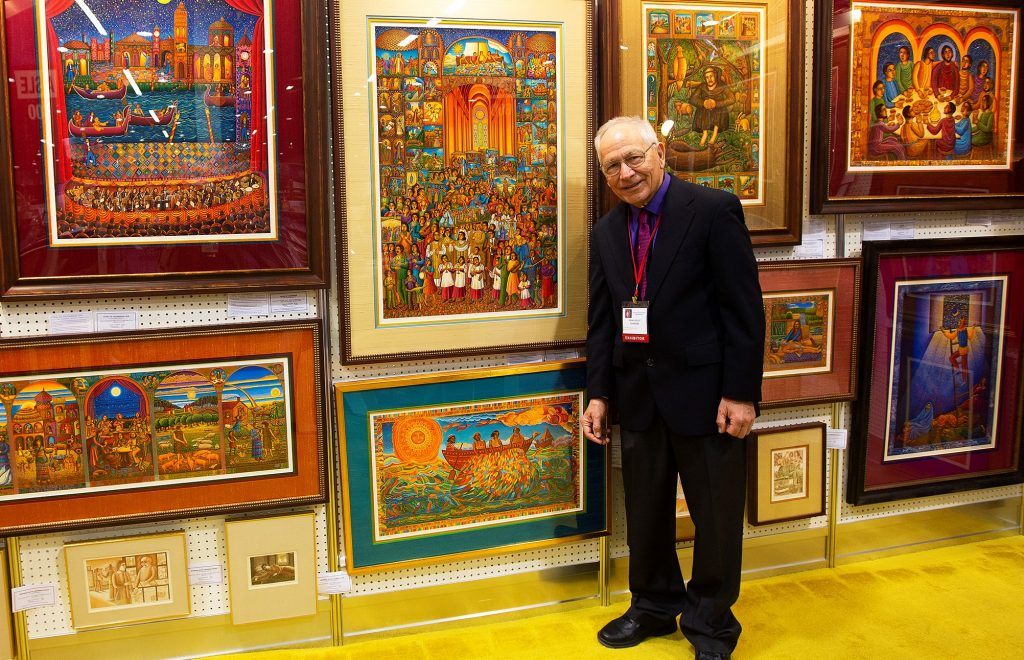 Catholic artist John August Swanson has died aged 83
In his own humble words, John August Swanson once called his distinct narrative work "my most social act."
Bright and simple, giving visual context to biblical stories and themes of justice through acrylic, oil, watercolor and mixed media, the Los Angeles native's engaging prints have become familiar to those who, over the years, have visited exhibits at the Cathedral of Our Lady of the Angels, meet him at his vendor booth at the Religious Educational Congress, or simply admire the covers of the English and Spanish print publications of the Archdiocese of Los Angeles .
After a battle with congestive heart failure, Swanson died early in the morning of Thursday, September 23 at the St. John of God Retirement and Care Center in the Jefferson Park area of ​​Los Angeles. He was 83 years old.
Swanson's award-winning silkscreens, lithographs and giclee prints have resonated globally and locally for more than 50 years. His painting entitled "The Procession" is part of the Collection of Modern Religious Art of the Vatican Museum. Others hang in galleries in London and Paris. His pieces are in the National Museums of American History, American Art, and Air and Space at the Smithsonian Institution. His painting "Entering the City", depicting an article titled "Who Was Jesus," was used on the cover of the December 1994 issue of Life magazine and is on display at the University of Notre Dame.
The August 2021 edition of the Los Angeles Catholic Worker's "Catholic Agitator" used Swanson's 2020 poster "Song of World Peace" on its cover for an issue dedicated to the pursuit of non-violence. The Catholic Worker has nearly a dozen Swanson works in its community facilities.
Cecilia González-Andrieu, Professor of Theology and Theological Aesthetics at Loyola Marymount University, is a self-proclaimed scholar from Swanson who has worked on projects related to her art and her life. She was also his neighbor – both lived near the LMU campus – and considers him "the most generous human being I have ever known."
"He listened intently to the story of the doctor who looked after him and the guard who cleaned the floors – they were both equally precious to him," Gonzalez-Andrieu told Angelus. "He chose to work on screen prints so that his art could be accessible to more people, not just museums and collectors with big budgets, but everyone and he gave a lot of it. He believed in a God of absolute abundance who made God present in the miracle of an apple from his tree, in the mystery of the Eucharistic proximity to the divine, and above all in each other.
Swanson had been a regular guest speaker for Gonzalez-Andrieu's class, "Meeting Christ in Faith & Art," and his work is featured in his 2012 book, "Bridge to Wonder: Art as the Gospel of Beauty".
Born January 11, 1938 in the Boyle Heights neighborhood of Los Angeles, Swanson had a mother who was a Mexican garment worker and a father who was a Swedish vegetable seller, both in search of a better future. With his father ultimately absent from his life, Swanson grew up with his grandmother, mother and older sister, who passed on the Catholic faith to him through Mexican tradition.
He struggled with dyslexia, eventually dropped out of high school, and at age 15, with the desire to become a religious brother in the service of the poor, applied to enter a monastery in Ohio. He was sent home after a year.
He found his way to the Loyola University Westchester campus in the late 1950s with new aspirations to become a doctor. He couldn't finish his classes.
Still searching for meaning in his life in his early thirties, and having taken a night job at a paint factory, he enrolled in an art class focusing on lettering and printmaking offered by Sister Corita Kent at Immaculate Heart College. His vibrant screenprints in the 1960s focused on peace and social justice regarding poverty, racism and war, and were acclaimed internationally.
On his website JohnAugustSwanson.com, his unique style using Mylar film, stencil and screen printing is described as "detailed, intricate and elaborate." He is influenced by the imagery of Islamic and medieval miniatures, and Russian iconography; the color of Latin American folk art; and the tradition of Mexican muralists. … All of his parables optimistically embrace life and its spiritual transformation.
Up to 89 colors of transparent and opaque inks could be found in one of his hand-made silkscreens. In 2005, Swanson was one of the first 33 recipients – along with Holy Pope John Paul II and Bishop Desmond Tutu – of the Mother Teresa Award for Social Justice, recognizing "achievements that make the world better".
Until his illness, Swanson could be found at daily Mass early each morning at LMU and played the violin for larger liturgies.
On August 31, Loyola Marymount University recognized Swanson's work with the LMU President's Award, a framed proclamation by President Timothy Law Snyder and the highest degree-free recognition the university can grant.
"It's a very exciting time in my life that someone would record," Swanson replied. in a handwritten note. "To look at not only on one level but on other levels, not just art but my work for righteousness and faith."
Funeral arrangements are pending completion of the renovated chapel of the Saint-Camillus center, which will present a large collection of his works. In lieu of flowers, donations can be made to the St. Camille Spiritual Care Center or a local drop-in center for Catholic workers.