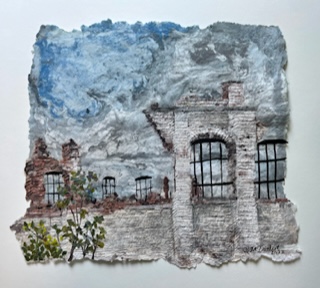 BSA will host an art demonstration by an award-winning papermaker from Roy
The Batavia Society of Artists welcomes artist Julie Lambert on Tuesday, October 11 at 7 p.m. at Go-Art/Seymour Place, 201 E. Main St., Batavia. Julie will explain to us how she makes handmade paper and how she uses it in her works. Non-members are welcome for a $5.00 fee. The 2.o.1. The tavern will be open during the event for cash purchases.
Julie A. Lambert is an award-winning paper artist who lives in Le Roy. While pursuing his bachelor's degree in printmaking and painting at SUNY Oswego, the artist learned how to make paper. Instantly intrigued by this art form, Julie found her medium.
The artist's works reflect his deep connection with nature and his environment. Through handmade paper, Julie explores both natural forms and the impact of man on the landscape. Many of his pieces are based on his love of exploration. Sometimes inspired by a moody sky, a twisting tree or a decaying structure, nature speaks to her and she recreates these scenes in her art.
Julie also creates a series called "Discerning". Word meanings are often interpreted based on influences from social media and life experiences. The artist's works are created to challenge his own perceptions and encourage questioning and conversation.
Recently retired, Julie pursues her art full time, winning 3 awards and participating in 10 exhibitions, including a solo exhibition, over the past 2 years. Julie has also taught several workshops at local venues including the Rochester Brainery. Julie is delighted to present at the Niagara Art Guild and the Batavia Society of Artists. The artist currently exhibits at the MVA Gallery in Easton Pa. and Go-Art.
Julie is a member of the Batavia Society of Artists and the Rochester Contemporary Art Center.