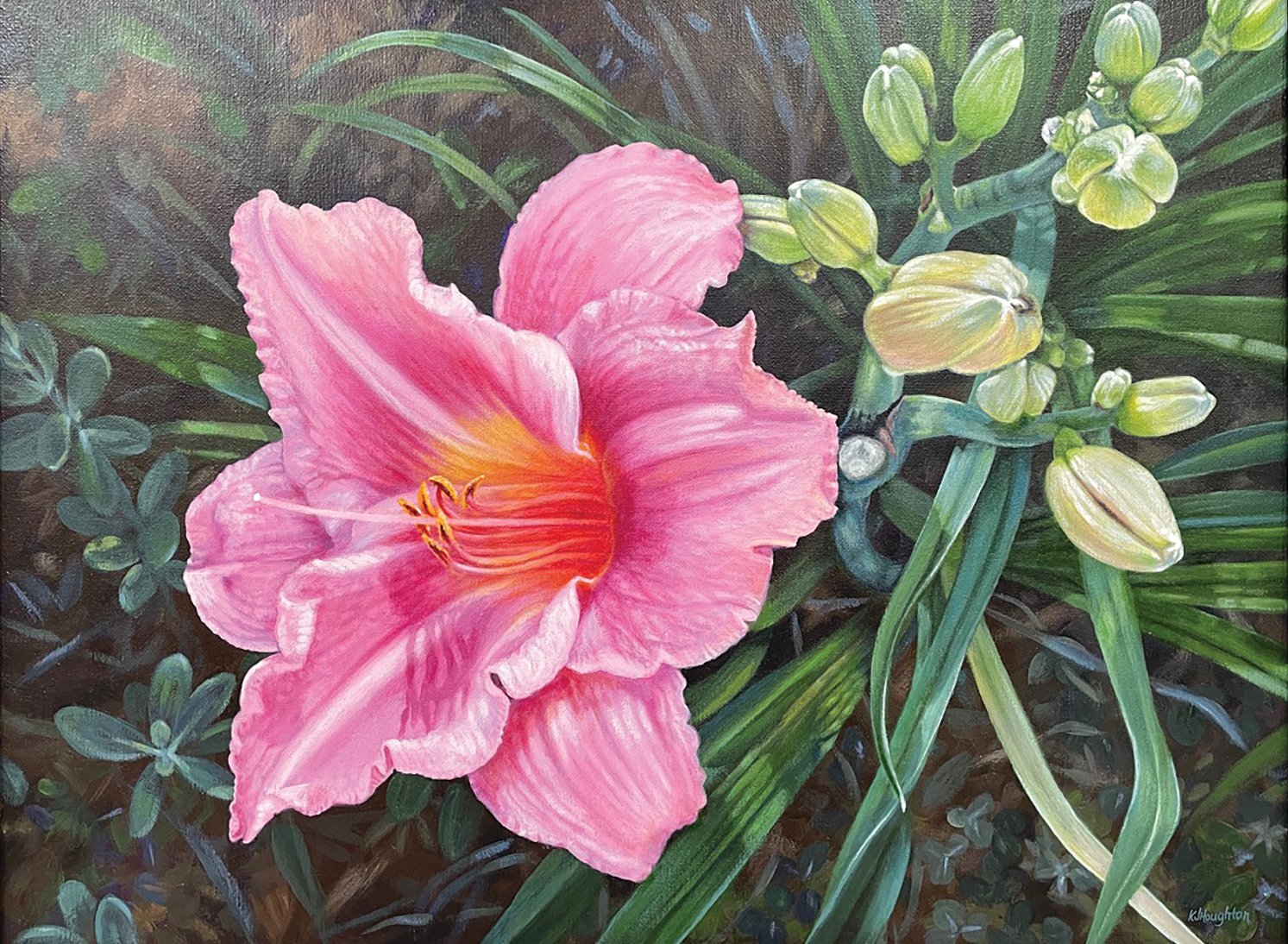 Beauty & Benevolence | review review
review review
The Mary Bishop Memorial Gallery at the Crawfordsville District Public Library invites the community to view a new exhibit from the Art League of Montgomery County.
The ALMC art exhibit is available to the public until November 19 during regular library hours. A limited amount of artwork will be on sale during the exhibition through the circulation service.
This year's exhibition contains 70 works of art from 11 art league members. Some of the works of art are for sale and the library receives 20% of the price of each piece. Art league members worked in conjunction with library staff to set up this show.
The show includes colorful watercolors by artists Carol Baird, Karen Patton and Leslie Warren. These artists included portraits, views of Lake Chaplain, flowers, and a rooster. Lu Johnson's portrait titled "Outdoor Girl" will warm the heart as well as her other oil paintings of cardinals and flowers. From a resting tiger to a raccoon, viewers will enjoy Linda Brady's oil paintings. Kathy Houghton's attention to detail and fine flower shading will take you back to the blooms in your garden on a beautiful July day.
Anna Dickson presents her views of peaceful landscapes in oil and acrylic. If you've done paper art (paper engineering) before, you'll definitely appreciate the creative cards and containers exhibited by Ruby Burkhart. When you receive a card from Burkhart, you know it was made with love. Mary Lou Dawald, Terri Fyffe and Karen Patton present an exhibit of original handcrafted clay birdhouses and fish. Kathy Steele has photos of wild animals as well as a small collection of artifacts from her recent trip to Africa.
The Art League has had an active presence in this community for over a century. The organization now known as the Art League of Montgomery County was founded in 1896 by a group of 11 women with an interest in art history, sewing, and socializing. The founding principle of beautifying the community through caring and stewardship has remained constant. The league's activities and focus have varied over the years to reflect the community's social climate and available talent.
The league continues to work with local organizations to ensure that the arts remain an essential part of our traditions. Recently, the Montgomery County Community Foundation sponsored the league's preservation project and the award is used to fund the preservation of 19th and 20th century works by local artists. You can view these works at the CDPL which currently houses the ALMC's permanent art collection and proudly displays these works alongside its own collection. Framed works by local artists, past and present, can be seen primarily on the second floor. This collection also includes the Bicentennial Quilt which hangs in the first floor Reading Room for 11 months each year. It has 42 hand-sewn squares of local history and colorful traditions. The quilt was donated to the community by the league in 1976.
"We are thrilled with the engagement of our community and our current members, and of course we welcome new members at any time," said Steele, President of the ALMC.
Anyone interested in becoming a member or learning more about the league should send your name and contact information to the Art League of Montgomery County, PO Box 2, Crawfordsville, IN 47933 and you will be contacted by the Membership Committee.
For more information on CDPL hours of operation, visit online at http://www.cdpl.lib.in.us/. If you are an artist or a member of an artist group and would like to exhibit your work at the Mary Bishop Memorial Gallery in 2023, contact Toni Ridgway-Woodall, the Gallery Coordinator at 765-362-2242 for more details.