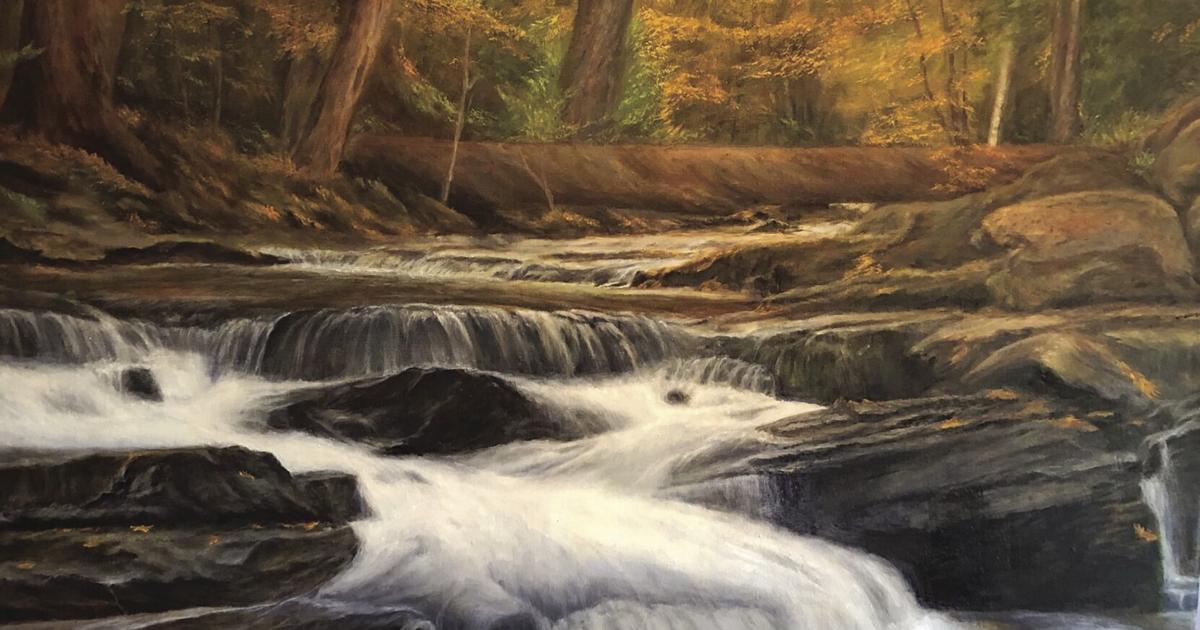 Artists' Co-op exhibition highlights the beauty of parks and gardens | Arts & Living
WESTERLY, RI – Richard Inserra and Gerry Matteo both became members of the Artists' Cooperative Gallery of Westerly in June 2021, and exactly one year later both are featured artists in the gallery's June 2022 exhibition, "Parks and Gardens".
Although they intentionally didn't sign up for the same exhibition – which is each's first as a featured artist at the gallery – both said they were delighted to have their work featured prominently in the gallery. gallery exhibition.
"(I) joined the gallery a year ago, and I've only been painting seriously for three or four years," Inserra said. "So, you know, for me, it's an opportunity to exhibit a lot of paintings at once, and have people come and look at them."
For Inserra, the Parks and Gardens theme was a perfect fit: He specializes in painting landscapes and seascapes, and several of the 12 paintings he submitted to the exhibition are inspired by places he has been or wants to go; namely, national or international parks in Maine, Utah, Hawaii, Oregon, Iceland, and France.
Inserra chose the June show mainly because they thought it would draw a good crowd – given that the weather is nicer and more people are on the go – but the theme ended up being a perfect fit for them.
"They happen to have chosen this theme, which I knew nothing about when I was told that I would be one of the two featured artists in June," Inserra said. "As long as I was interpreting, you know, 'parks' as being national parks and natural environments, it fitted in very well. So I was very happy with it. »
While Inserra has submitted paintings inspired by national parks, the exhibition features a wide range of pieces that fall under the broad category of "Parks and Gardens".
About 50 ACGOW artists present works made from oil, watercolor and acrylic paints; multimedia pieces; laptops; photographs; pottery; handcrafted jewelry; textile arts pieces; pieces of glass; carvings and more.
The subject matter ranges from blooming flowers to scenes in local parks and gardens to abstract and impressionistic seascapes. Colorful vintage glass flowers, handcrafted wooden bowls, charcuterie boards and tables will also be on display.
Matteo, a photographer who said she photographed "so many different types of things," had a little more trouble putting together a body of work that reflected the show's theme, she said.
But she said she "tried to include plants and flowers and such" in the 13 photos she submitted to the show, many of which are digitally altered to create different textures.
Among them are photos titled 'Lotus Leaf', 'Tulip' and 'Newport Pell Bridge', and she will also post a photo of an old staircase and one of a set of letters she photographed in an abandoned building. .
"You can see something with a texture on it, then you can see something a little blurry or different," Matteo said. "Lots of black and white photographs in the body of the work."
In addition to dozens of pieces from ACGOW members on display at "Parks and Gardens," the show will also feature flower arrangements from the Ocean Community YMCA Garden Club through its June tradition, "Art in Bloom."
For this year's "Art in Bloom," each participating club member will create a unique floral interpretation of an artwork, ACGOW officials said. Guests can meet the artists and take a look at the bouquets at the exhibition opening reception, which takes place Fridays from 5-8 p.m. at the gallery (14 Railroad Ave., Westerly).
"Parks and Gardens" opened at the Westerly Artists Cooperative Gallery on Wednesday and will remain open until June 26.