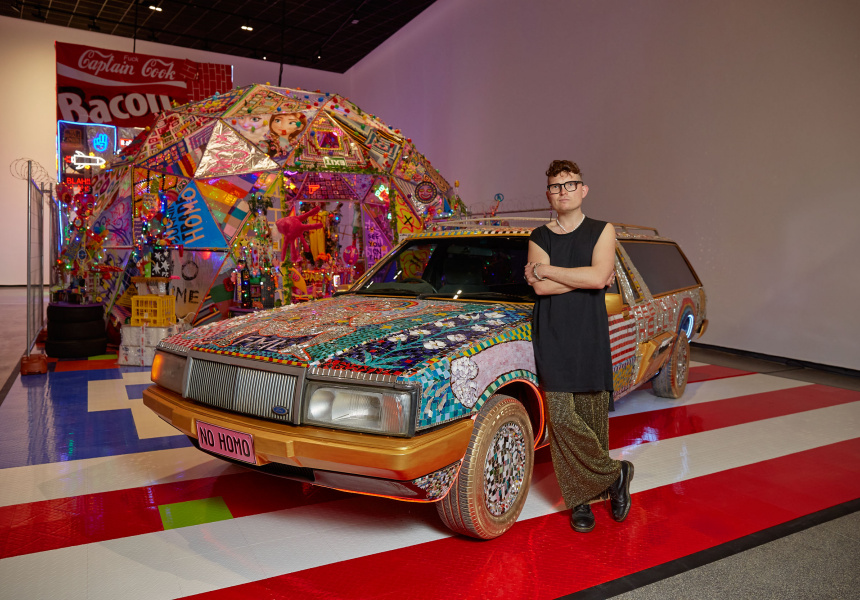 Artist Paul Yore explains the five pieces in his major new career-spanning exhibition
"It's a really big show," says Melbourne artist Paul Yore of Word Made Flesh, his new show at the Australian Center for Contemporary Art. "Certainly the biggest I've been involved in building."
For Yore, that means something. Over the past 15 years, Yore's work has become instantly identifiable. Often composed of large-scale, collage-like pieces of garish, kitschy, daytime imagery, Yore's work relies on the dissonant clash of micro and macro, playful and confronting.
"I like to make the work wonderful and whimsical, but there's also this nauseating element," he says. "It's borderline sickly sweet."
Yore's work often deals with themes such as sexuality, homophobia, consumerism, late capitalism and celebrity worship, refracted through the lens of his queer identity. Yore says his work has always been intentionally exploratory in nature. "I've always considered my work to be quite intuitive and organic, and strongly driven by experimentation," he says. "I'm always interested in new shapes, pushing boundaries and trying new things and new materials. My work is constantly changing and trying to respond to the cultural mood.
World Made Flesh weaves together several threads of Yore's identity in five rooms displaying hundreds of works. Its title a riff on the dissonance at the heart of his work. "The title is borrowed from the Bible and reflects my upbringing as a Catholic. But it's also a way to reclaim some of the imagery and symbolism of Christianity as a queer artist.
It is these experimental works – there are hundreds of them – that will be exhibited at the ACCA.
Inside the exhibition, the public can expect to be guided through five specially designed spaces. However, instead of being structured chronologically, they have been thematized.
Room 1: Signs
Splashed in resplendent yellow, the opening room features works created by Yore over the past decade that all have a linguistic element. "The first room is structured around the idea of ​​language, which plays a very important role in my work," explains Yore. "I'm very interested in how language proliferates in our culture, in the news cycle and in political slogans. And so this piece is full of very delicate and small scale needlework – almost referencing the Victorian era [needlework] samplers and their delicate embroideries.
Room 2: Incarnation
Painted a fleshy pink, the second room of Word Made Flesh is organized around the idea of ​​the human vessel. "It is structured around the idea of ​​the body and has larger scale quilted works constructed from found materials," says Yore. These quilted works – which take the form of "blankets" – are suspended on two levels on the four walls.
To create these works, Yore uses materials found in op-shops, such as clothing, bedding, and blankets. "These are really interesting materials because they relate to people's lives," says Yore. "They usually have pet hair or stains from use. [But I'm] interested in the idea that textiles are very connected to people's bodies and lived experiences.
Room three: Manifesto
Surrounded by pen drawings, preparatory sketches, texts, watercolors and collages, four large triangular textile pendants hang from the ceiling inside the Manifesto room.
"The third room is based on the idea of ​​the art object as being a political object in the world," explains Yore. Painted red to signify the radical potential of the art, Yore says the room "large-scale textual works refer to political banners you would find in the streets".
This inspiration comes from his involvement in anti-war demonstrations during the American invasion of Iraq. "I got interested in how the really big banners are made, and the idea of ​​urgency and doing something really quickly and then taking it out onto the street," Yore says. "This piece explores that."
Room 4: The Horizon
Painted an ecclesiastical purple, the fourth room features works that incorporate playful materials to challenge the grandiose historicism of European colonialism. "[The] very large scenic landscape-style quilts stare at this idea of ​​the horizon," says Yore. "The idea of ​​the future, and also the idea of ​​Australia in a colonial context."
Room 5: Word Made Flesh
The fifth and final room contains the titular giant Word Made Flesh, a new gesamtkunstwerk (German term for "total work of art") that has been haphazardly composed from prefabricated temporary structures. Yore describes the assemblage as: "a colorful and cacophonous installation comprising literally thousands of materials, lights, fountains, mechanized kinetic structures, architectural structures and video works".
Since the exhibition encompasses a wide range of unconventional works and materials, some audiences may not know what to expect before visiting. Despite this, there is one thing Yore asks visitors to Word Made Flesh to arrive armed with curiosity. "As a queer artist, what I come up with is something that I don't necessarily see represented in the mainstream," he says. "So I'm always hoping that the audience will come to that with some kind of empathy or generosity of spirit to actually engage with something that maybe they're not necessarily as familiar or comfortable with. "
Paul Yore: Word Made Flesh is on display at the Australian Center for Contemporary Art, from Friday 23 September to Sunday 20 November 2022. Admission is free.
Broadsheet is a proud media partner of ACCA.