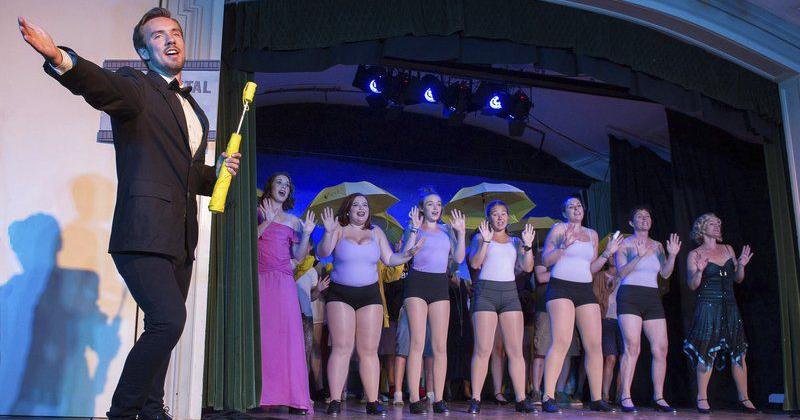 AROUND CAPE ANN: Annisquam Village Players presents a virtual cabaret | Way of life
Looking for a variety show to chase away the midwinter blues? If so, the Annisquam Village Players are presenting their annual February cabaret, a virtual event again this year, this Saturday, February 12 at 7:30 p.m.
The free show features actors, singers, and dancers performing a mix of skits and songs representing a variety of music.
Director Terry Sands noted that the evening's entertainment will also include scenes from past shows which will be intercut with other performances. The event opens with a fireside chat between Sands and Oscar-nominated actress Lindsay Crouse about her family's involvement in the early years of the Annisquam Village Players.
"It's a variety show of the past and present," Sands said. "We are trying more and more to highlight our history too. We have traced our roots back to the Civil War, with the first show in 1863. We believe we are the oldest continuously operating community theater. There were some that were older but no longer exist.
Additionally, Sands noted that this small theater group strives to keep up with technology to improve its productions, such as having Peter Pan fly through the air and creating rain during scenes in its production of "Singin' in the Rain. ".
But audience enjoyment is always at the forefront of everything players do.
"You will see your friends and neighbors trying to make you smile, laugh, maybe even cry (or roll your eyes)!" said Kerry McKenna, board member of Annisquam Village Players.
Participation in the historic community theater group is a right of passage for many residents of the village of Annisquam in Gloucester.
"It's considered a tradition that one thing you do is be in a show with the Annisquam Village Players. But we're not exclusive and welcome actors from all communities," Sands said.
The COVID-19 pandemic didn't stop the cabaret from taking place, as it likely would have been virtual anyway as the party hall is being restored. Last year's cabaret was a fundraiser for this work, but this year the donations will go to scholarships.
Virtual viewing is free, but all donations will go to the Annisquam Village Players Theatrical Arts Scholarship Fund, which is available to students ages 8-22, who have demonstrated a commitment to developing their artistic talent by as actor, voice, dance and crew. or production tasks.
"We started the fund about three years ago and we want to grow the fund because Annisquam Village Players is focused on kids and getting kids into the theater," Sands said. "I strongly believe that the theatrical experience will benefit children. It helps them develop, communicate and feel confident when they have to stand up to speak in front of a group. It's a huge tool because it can happen today no matter what profession you're heading into.
Any size donation is welcome. For those with more to give, a Footlights sponsorship is available with a donation of $100 or more. At this level, if located within 35 miles, a bottle of Prosecco to enjoy while watching the show will be delivered prior to the event. All donors will be recognized on the website.
To watch the show, go to AnnisquamVillagePlayers.org and click the "Watch" button. Donation information is also available on the website.
February at CAM
This month, the Cape Ann Museum, 27 Pleasant St. in Gloucester, celebrates black history and life at sea, two key parts of Cape Ann's history.
Admission to the museum will be free for all Cape Ann residents this Saturday, February 12 for the second Saturday program. Free admission continues for all families with children under 18 during the school holiday week, February 19-22, when visitors of all ages can learn about black sailors, make their own scrimshaw and search for ship models in the galleries.
To learn more about black history in Cape Ann, sign up for the next CAMTalks "Collecting and Exhibiting Untold Stories" on February 19, or watch CAM Teen Art Council's Martin Luther King Jr. installation. The installation features works by local teens in honor of Martin Luther King Jr. Day. Members of the museum's Teen Arts Council noted that many students are committed to learning more about black history and the role that Cape Ann and the North Shore played in the civil rights movement.
Stow Wengenroth's lithographs and Adin Murray's drawings in "Homeport" are also on display until Sunday, February 13. Then, across the hall, is the special exhibition "Cape Ann & Monhegan Island Vistas: Contrasted New England Art Colonies," which is on view until March 31. For more details, visit capeannmuseum.org.
Local colors last week
There are still a few days left for the Local Colors Artists' Cooperative Valentine's Card Sale, with all proceeds going to a local charity.
This is the 11th year of the co-op's 'Local HeART' fundraiser, which runs until February 14 at the gallery at 121 Main Street, Gloucester. Each year, artists create unique Valentine's Day cards working in a new medium to expand their creative sensibility.
Members selected four local nonprofits for which a customer can vote: Wellspring House, Pathways for Children, The Open Door and Cape Ann Animal Aid.
The cards can feature a humorous message, a ceramic pin, a sea glass or a beach rock that can be used as a small gift.
More information is available by visiting www.local-colors.org or calling 978-283-3996.
Around Cape Ann is a section devoted to events taking place in Cape Ann and Cape Ann artists performing elsewhere. If you would like to submit an article, contact reporter Gail McCarthy at 978-675-2706 or [email protected] at least two weeks in advance.