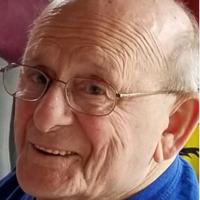 Alfonso "Al" F. Cantafio | Obituary
FOX LAKE – Alfonso "Al" F. Cantafio, 92 of Fox Lake, passed away peacefully on February 2, 2022 at Advocate Lutheran General Hospital in Park Ridge, IL.
Al was made in Italy and born in Chicago on April 1, 1929, the son of Anthony and Constance (Pia) Cantafio. He graduated in 1947 from Waller High School in Chicago. On September 26, 1948, Al was married to Florence Zimmer at St. Vincents Catholic Church. Al worked as a lithographer for a local print shop. In 1953, Al was drafted into the US Army. After boot camp, he was stationed at Fort Bragg, North Carolina, where Florence and her two sons joined him. Al and his family returned to Chicago after his honorable discharge in 1956. He returned to his workplace and worked in the business until his retirement. Al and Florence loved traveling with friends and vacationing on the shores of Fox Lake over the years who, upon retirement, decided to make Fox Lake their home. Florence predeceased him in 1990. Al then found love again and married Ellie Olson in 1993. Al enjoyed fishing on Fox Lake and also at local community waterholes. He also enjoyed being an active family man, golfing in the summer and bowling in the winter. Al was a member of the Catholic Church of the Annunciation and the Robert W. Ginther American Legion Post 521, both in Fox Lake, WI.
Al will be sadly missed and mourned by his children, Jerry Cantafio (Kathy Holland) of Antioch, IL, Linda (Jim) Meagher of Fox Lake, WI and Allison (Steve) Scala of Mt. Prospect, IL; his grandchildren, Carianne (Antonio) Clark of Chicago, Jamie (Dave) Morris of Verona, WI, Kevin (Mel) Meagher and Mark (Nicki) Meagher both of Fox Lake, WI, Gianna (Colin Olson), Alyssa, Lia Scala all of Mt. Prospect, Illinois; his great-grandchildren: Connor Cantafio, Aubree and Colton Clark, Eleanor Morris, Kevin Meagher Jr., Connor Schneider, Savannah and Mackenzie Meagher; his stepchildren: Joe (Karen) Olson and Matt (Michelle) Olson; her step-grandchildren: Evan, Colin, Samantha, Skyler, Nick, Maddie and Dream; nieces, nephews, several other relatives and many friends.
Al was predeceased by his parents, both wives, a son Tom; two grandsons; Bryan and Michael, a stepson Sean Olson and two brothers: Frank and Joe (Rosie) Cantafio.
A mass for the Christian burial will be held at 11 a.m. on Monday, February 7, 2022 at the Catholic Church of the Annunciation in Fox Lake, WI with Father John Radetski officiating. Interment will follow at Riverside Memorial Park with military rites. Relatives and friends may visit the family on Sunday, February 6 from 4 to 7 p.m. at Kratz-Smedema Funeral Home in Fox Lake and at the church from 10 to 10:50 a.m.
In lieu of flowers, memorials may be addressed to American Legion Post 521 or the Badger Honor Flight in the name of Alfonso Cantafio.
Kratz-Smedema Funeral Home in Fox Lake, WI is serving the family. www.kratzfh.com.