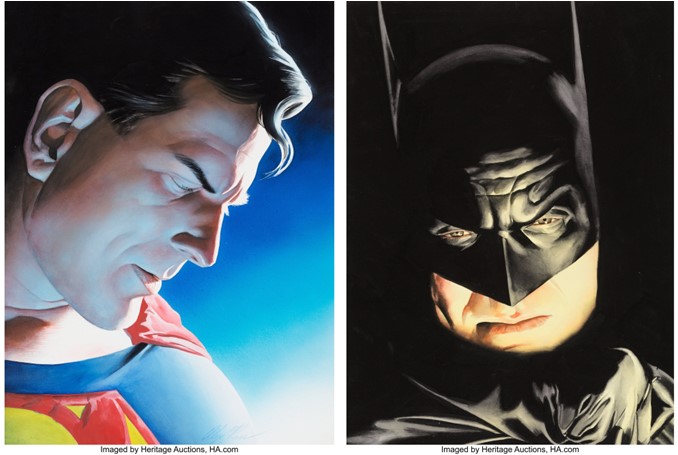 Alex Ross' original covers for oversized Batman and Superman books go up at Heritage auction
Alex Ross' original covers for oversized Batman and Superman books go up at Heritage auction
Alex Ross creates heroes that you really believe exist, who really walk among us – or fly above us, anyway. For decades, the artist's painted heroes have sprung from the page. They strike with fear, tickle with joy, can even induce a little fear. Comics have always been pop art, but the way Ross painted our longtime super friends made you think it's possible for a superhero to breathe, to blink, to be.
There's a reason his works are on display in museums, once alongside his inspiration Norman Rockwell. Even when made small, Ross's photorealistic heroes are larger than life.
Look no further than the covers Ross painted for the premium Superman: Peace on Earth and Batman: War on Crime graphic novels in the late 1990s, each available in Heritage Auctions' signature Comics and Comic Art. from September 8 to 12. Auction.
It's intimate and wounded close-ups that adorn poignant big-screen stories, written by Paul Dini, about heroes struggling in vain to mend a shattered world. In his book, Superman strives to end hunger on the planet and finds his attempt to "comfort those in need, pain and fear" to be "short-sighted and disastrous." In his story, Batman hopes to ease the pain of a young boy lest he too succumb to a world filled with the violence and corruption that made young Bruce Wayne the Batman.
Every hero, repeatedly confronted with tragedy and exploitation, discovers that there is no easy solution; pride makes even the most powerful super friends on earth vulnerable. The covers, initially auctioned off as a charity fundraiser, reflect the angst of heroes accustomed to fighting their way to truth and justice.
"All of these 'tabloid' books tackle fundamental problems of the human condition that heroes have no hope of solving," Ross says in Mythology: The DC Comics Art of Alex Ross. "The point is, what they can do at the end of the day is not suggest a simple solution, but a viable first step."
Over time, these covers will become some of Ross' most identifiable and indelible images; DC made available signed lithographs in limited quantities which sold out quickly. Having the original paintings sold in the same auction could well be a once in a lifetime opportunity for fans of Ross and the heroes he brought to life.
Original Comic Art: Covers, Alex Ross Batman: War on Crime "These two covers are amazing as a pair – incredible images of two of the most iconic superheroes of all time, rendered impeccably in the Ross brand style. and both from what most collectors consider to be its most desirable period, "said Heritage Auctions vice president Todd Hignite." Iconic is a term probably overused in our field, but these originals are absolutely admissible. . "
Maybe that's because these images speak more than most of Ross's core belief that "these characters are about action beyond yourself," as he once told the Dallas Observer. . The son of a "liberal minister," as Ross once put it, and commercial artist, Ross became the go-to in the comic book industry in the 1990s when it needed more stories than the bam-and-pow to fill in a few panels. He is a storyteller, proselyte, conscience, guardian and the only man who could make immortals never seen more human than when he is in his hands.
"That's what this character is capable of," Ross said when these books were first published. "That's what this concept is for. The hope is that you start instilling in others a sense of passion and understanding of the values ​​that these characters are meant to represent. I mean, ultimately, superheroes. were created not only as entertainment icons, but as metaphors for righteous thinking. The entire concept of superheroes is a selfless act, so there is a philosophy behind it that is generally lost in modern society. These Are the comics going to help rekindle a bit of that? I can only pray that way, but you never know if it will. "
---