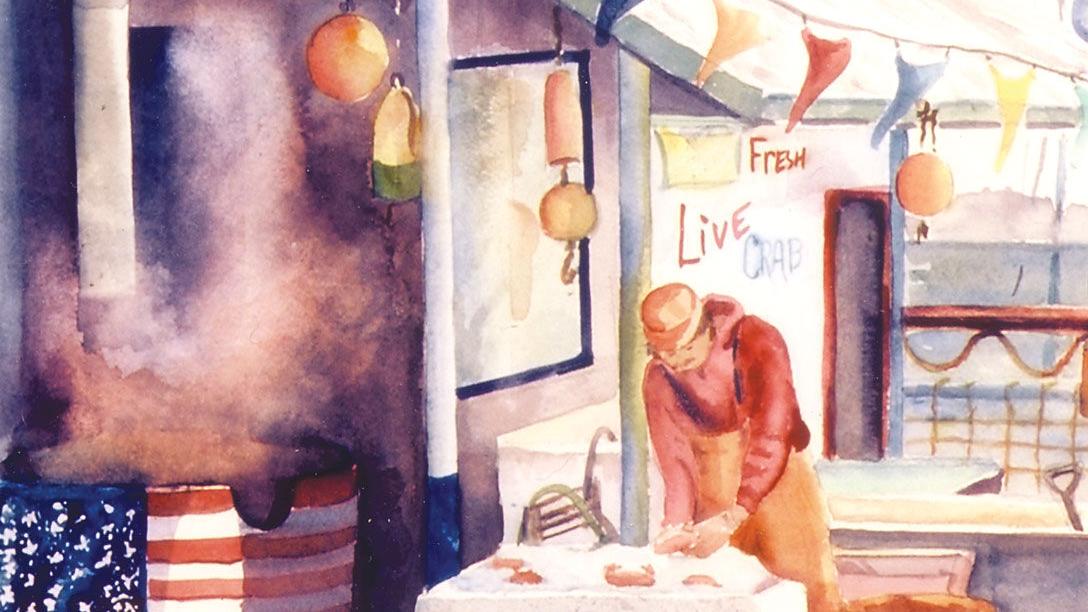 A love of the coast for decades | Culture & Leisure
[ad_1]
Helen Kropp first arrived on the Oregon coast in Newport in 1962. Falling in love with the area, she and her husband purchased a small beach cabin and in 1996 when her husband retired they moved into an ocean view house they had built three blocks away. . And while she's just sold this house and is moving back to Albany, she hopes to find a tiny beachfront home in Newport by spring or summer, where she can continue painting the ocean that 'she likes.
Indeed, Kropp has been painting the Pacific, mainly from Newport to Florence, for decades, and painting outdoors since the 1970s. "The kids and I were here almost every summer before moving full time," she said. declared. "Newport has been a big part of my life."
Kropp is known for her watercolors, especially of the ocean. And every summer, she paints with the PaintOut project, "Painting the Oregon Coast", first led by Nelson Sandgren and now by her son, Erik.
In this project, around 40 or 50 painters come to the coast for two weeks in July to paint outdoors on site – outdoors – rain or shine, at sites in Newport or Depoe Bay south of Heceta Head. . "This is a free workshop for serious painters and starts with a paid course," she explained. "People come from California and Washington, a lot of the same people every year. They call the participants Painterly Painters.
Fifth generation Oregonian, Kropp was born in Brownsville and graduated from high school in Albany. His great-great-grandparents lived in Brownsville – one a farmer, the other a rancher. Now two of his three daughters live in Albany and will be two blocks from his new home.
Kropp transformed a bedroom in this house into a painting studio. "The only difference between the new home studio and my old one is that the new one will not have an ocean view," she said. But friends gave her access to their Newport home while living in Arizona for several months, and she plans to use it as a coastal studio for now. "I hope that in the spring I will have found a permanent place to live in Newport again," she said.
Painting is an important part of Kropp's life. "I paint whenever I'm not gardening or having something else to do," she said. "Weather permitting, I paint on location, usually from Cummins Creek north to Seal Rock. I used to paint a lot of boats near Riverbend on the bay, but I'm really interested in ocean painting, I love painting the waves.
When her youngest daughter started school, Kropp decided to go back to school on her own and took art classes at both Oregon State University and Linn-Benton Community College (LBCC). , as well as at Clackamas Community College and present-day Western Oregon University. She also studied outdoor painting with Nelson Sandgren.
And because she loves to travel, she also took painting workshops in Arizona and New Mexico.
She paints strictly in watercolors. "I started taking art classes at LBCC around 1976 – oil painting, watercolor, all the basics," she said. But she found out that she was allergic to oils and focused on watercolors instead, although she painted acrylics for the Newport banner project and for t-shirt images. She also studied screen printing at the Sitka Center for Art and Ecology, and gyotaku (fish print) at OSU Hatfield Marine Science Center.
"I've always been interested in taking classes," she says. But it was not something that was part of his youth.
"Growing up we were fortunate enough to have a box of Crayolas," she said. "And there wasn't a lot of art when I was in school. I had a friend who painted and that intrigued me. I started with tole painting first and eventually taught a class, but got tired of painting someone else's designs, so I started taking art classes. art at the LBCC.
Years later, Kropp began painting with famous Newport artist Jan Kunz, who now lives in California. "I traveled with her and helped her, and met a lot of wonderful people," she said. "There were always two or three students who were oil painters and had never painted with watercolors, so I spent a lot of time with them teaching the techniques of this medium.
"I still paint with Jan in the summer, but I turn to flower painting when I'm with her," Kropp said.
When living full time in Albany, Kropp said she painted a lot of historic homes but didn't do a lot of outdoor painting. However, she paints with the Vistas and Vineyards of Corvallis, a group of artists who paint on site every week from mid-May to mid-October each year.
While painting the ocean is her main subject, flowers are also a favorite for Kropp. She joined the Seal Rock Garden Club when she first moved to Newport and continues to be an active member. For years, she took part in the club's Christmas greens show and called it "hard work but a lot of fun".
But at 85, "it's time to move on," she said of her decision to sell her house, noting that she had a lot of stairs and a big garden, and that she was too big for her to manage on her own.
Although she is temporarily leaving Newport, her work remains available locally. She has five framed watercolors – three seascapes, a painting of the Heceta Head lighthouse, and a gyotaku print – in the current exhibit at the Newport Visual Arts Center, which runs through October 30. His paintings depict scenes from Heceta Head to Seal Rock. .
The "Reservation Inspiration" show features the work of nine regional artists and reflects the importance of the five Oregon Coast marine reserves, including Cascade Head, Otter Rock and Cape Perpetua.
Kropp's squirts can be found at Zach's Bistro in Nye Beach. Several of his paintings are on display in Samaritan hospitals in Albany, Lebanon and Corvallis, and index cards of his paintings can be found in several stores in the Newport area. She can be contacted at [email protected]
After all these years, she concluded, "I enjoyed painting in Newport. And I plan to keep doing it for as long as I can paint.
[ad_2]