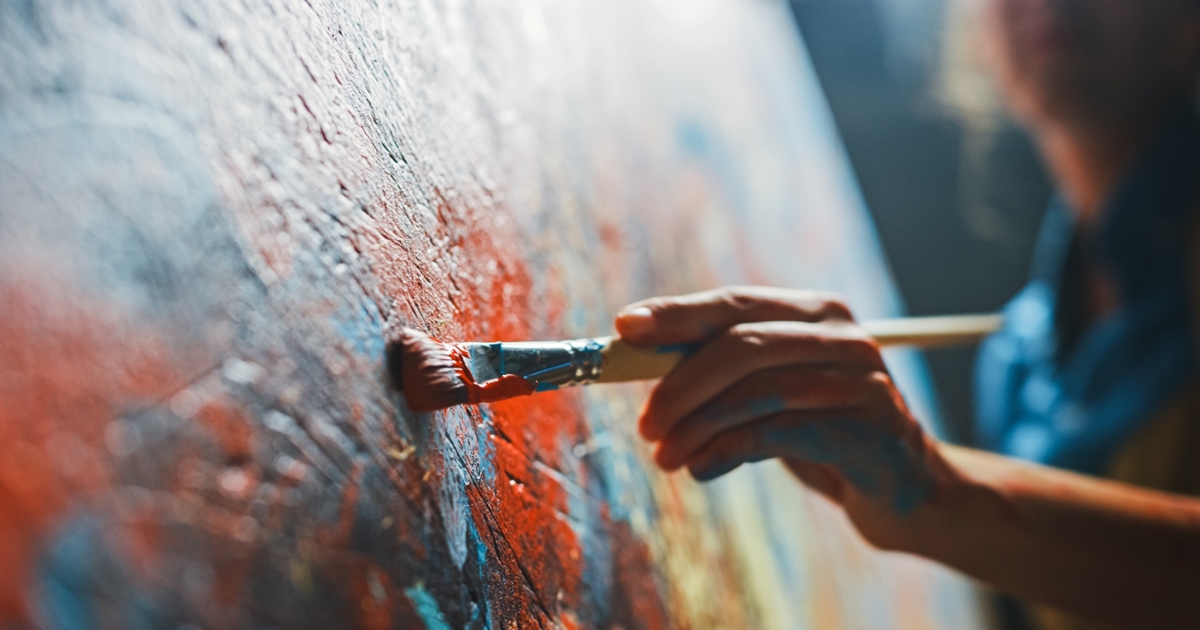 9 Autumn Artworks to Add Atmosphere to Your Gloucestershire Home
From dreamy watercolors to striking oil paintings, mixed media, ceramics and glassware, Cheltenham's Paragon Gallery has a range of artwork to spruce up your home this fall.
Featuring artists from across the UK, as well as those based in and inspired by Gloucestershire, SoGlos highlights nine new pieces currently on display – and for sale – at Paragon.
Cheap Artworks from Paragon Gallery
Ceramic shapes by Camilla Ward
Whether painting or clay, surface and line are fundamental in Camilla Ward's work. The most important consideration is the effect of color on a room's space, light, and mood. Real or imagined experiences from the past and present inform the development of each work, with drawings, notes and photos evolving in the studio into mostly abstract compositions that sometimes border on landscapes.
Ward builds up the surface, laying down color and texture, sometimes applying clay, retouching, then repainting, reworking, scraping and marking to create his unique works.
To learn more about Camilla Ward, visit paragongallery.co.uk.
Come Come Dark Winds by Ashar
Ashar works primarily in oil on wood panel, creating abstract works with the aim of moving the viewer. She captures a painterly response to the spirit of a landscape rather than just a visual impression, creating a work that has the ability to be vividly felt.
Born in Surrey in 1942, Ashar now lives and works on the Somerset Levels, which are her great inspiration. His winter months were spent in the moors sketching and soaking up the essence of the landscape. She then uses these sketches to reconnect with her feelings for a location when she returns to the studio.
To learn more about Ashar, visit paragongallery.co.uk.
Friends by Michele Lehman
Lehman was born in Switzerland but moved to Mijas in southern Spain over 30 years ago. Once there, she opened an art gallery as an outlet for local artists. Although not an artist herself, she started drawing to pass the time, starting with a sketch of an old woman in black who walked past the gallery every day. She moved too fast to draw, so the image captured her from behind – and her style was born.
Lehman's numbers are nostalgic; they turn away from you, point at something outside your field of vision, or rush towards an unknown destination. There's always something they don't tell you, causing the viewer to instinctively start making up their own story.
To learn more about Michele Lehman, visit paragongallery.co.uk.
Mid-priced artwork from the Paragon Gallery
Tide Race by Rod Nelson
Nelson is a self-taught engraver based in Gloucestershire, where he works as a full-time artist. Specializing in woodcuts, he has a unique approach, using tools and techniques he has spent 30 years developing. He has exhibited extensively with regular shows across the UK and Germany and has had works selected for the International Print Center of New York's Winter Exhibition.
Nelson teaches the technique of wood engraving at the famous West Dean College of Arts and Crafts in Sussex. He also teaches at RWA, Germany, Holland, and leads workshops from his home.
To learn more about Rod Nelson, visit paragongallery.co.uk.
Cool, White Spring by Bruce McLean
One of the major figures in contemporary British art, McLean's work is in a constant state of movement and invention. Since the late 1960s his range of media has included painting, printmaking, sculpture, film, photography, drawing and live work.
Humor, skepticism and wit are always at the center. He seeks to challenge the concept of sculpture and art by creating works that challenge establishment thinking, materials and methods of display. A must for any contemporary art collector.
To learn more about Bruce McLean, visit paragongallery.co.uk.
Through Cannop by Doug Eaton
Eaton's style is unmistakable with a bright and bold painterly quality. Her inspiration comes from her beautiful surroundings in the Forest of Dean. He tries to provide the viewer with minimal information to suggest the subject, leaving the rest to the imagination.
Eaton grew up in Coleford in the Forest of Dean. After school he went on to study at the Stroud School of Art and later at Cheltenham College of Art. He started painting full time in 1977 but worked in the graphic industry until 2001.
To learn more about Doug Eaton, visit paragongallery.co.uk.
High-priced artwork from the Paragon Gallery
Night Flourish by Jerry Browning
Browning was born in Dorset in 1954. A student at the art colleges of Exeter and Reading, he painted under the tutelage of Sir Terry Frost and Patrick Heron. He worked alongside acclaimed painters Patrick Proctor, Albert Irvin, Adrian Heath and Gillian Ayres.
He immersed himself in American Abstract Expressionism and the work of Mark Rothko, Willem de Kooning, Franz Kline and Robert Montgomery. Back in the UK, he joined the famous British artists' colony of St Ives, where he continued to explore the growing American influence and developed his own unique style.
To learn more about Jerry Browning, visit paragongallery.co.uk.

Drifting Confetti by Melanie Cormack-Hicks
Cormack-Hicks graduated in fine art in the late 1990s in Cheltenham. She believes the inherent relationship we all have with the landscape allows her paintings to summon strong emotions.
She said: "Each painting has its own story, but it is not meant to tell you my story. I believe that once a painting is finished, it no longer belongs to me, that I have to take a step back to allow the viewer to enter the painting and find their own narrative. I believe this is why my paintings evoke such deep memories and feelings in their owners.
To know more about Melanie Cormack-Hicksvisit paragongallery.co.uk.
Polar Shift by Adam Binder
Binder lives and works in the Cotswolds, where the diverse environment provides an endless source of inspiration.
He said: "Nature is a wonder and a joy to observe and it is through my sculpture that I strive to connect more with wildlife and capture the character of my subject. As I sculpt, I feel like I am engaging with the spirit of the animal, sensing its subtle movement and suggestion of body language. For me, nature and sculpture are the perfect marriage. I see repetitions in form, line, mass and detail throughout the natural world, sculpted over time but in perfect harmony. Nature is my passion and my constant distraction".
To learn more about Adam Binder, visit paragongallery.co.uk.