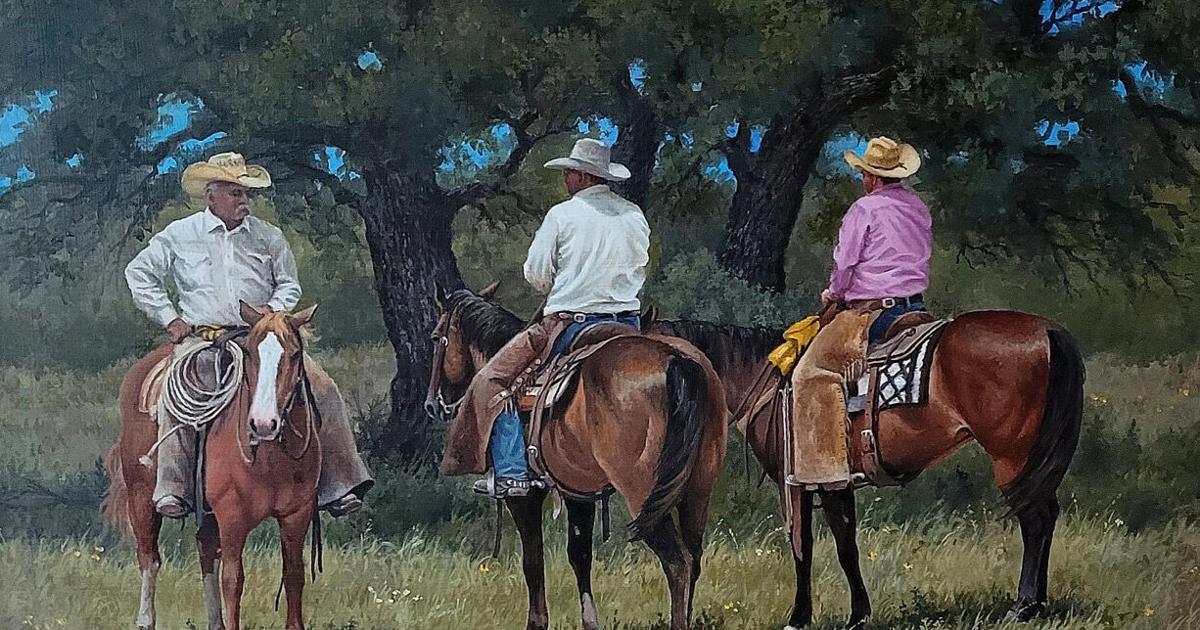 39th Annual 'Roundup' Exhibition, Sale at MoWA Begins September 23 |
The Museum of Western Art in Kerrville, Texas will hold its 39th annual Roundup exhibition and sale from September 24 to October 29.
The opening gala weekend will take place on September 23 and 24.
Darrell Beauchamp, the museum's executive director, expects this year's Roundup to be exceptional.
"This is the museum's biggest fundraiser of the year and the caliber of art in the exhibit is outstanding. Roundup should be on every art lover's bucket list," said Beauchamp.
The weekend events will begin on Friday, September 23. The free educational day for the museum public will run from 10 a.m. to 3 p.m. and will include outdoor activities and western-themed demonstrations, including trick roper Will Fitzpatrick, Moses the Mountain Man, and the demonstration of Landry's pioneer toys. The Hitchman Homestead food truck will sell light refreshments.
Several Roundup artists will be on hand to interact with attendees.
A VIP reception and cocktail will be held on Friday evening from 4:30 p.m. to 6:30 p.m.
Here's your chance to preview the original paintings and sculptures at three galleries in preparation for the Saturday night gala.
The main event on Saturday evening from 5:30-9:30 p.m. will be the 39th Annual Show and Sale, where ticketed guests can interact with performers, sample heavy appetizers and libations, and purchase of art, through silent auctions. , made by the most recognized names in the Western art scene today. Suggested attire for either evening is Western chic.
About the artists
Of the 47 artists from across the country who were chosen to participate in Roundup, all specialize in the Western art genre and all are acclaimed in their field. Kerrville artists Herman Walker, Carol Arnold and Karen Cooper will have works in the exhibit.
Many of the 47 participating artists are familiar faces to art collectors, including local pastel artist Carol Arnold.
Arnold will have three pieces in the show and is participating in Roundup for the fourth time. This gifted artist is a member of the Pastel Society of America and the Central Texas Pastel Society.
Among her three paintings in this year's exhibition, all pastels on archival paper, is "Message from Above," an atmospheric painting of the West Texas sky in the early morning, inspired, she says. , "of a beautiful sunrise in Marathon, Texas."
In addition to Arnold, acclaimed artists from Kerrville Cooper Walker will have original paintings in the exhibit.
New to Roundup this year is Rhode Island artist Carla D'aguanno whose self-proclaimed technique is "expressive figurative art."
She has won numerous national awards and her work appears in prestigious galleries across the country. D'aguanno's three-horse "Rendezvous" expressive oil is one of three that will appear in Roundup.
Special incentives
Beauchamp says all artwork purchased on Roundup night Sept. 24 will be tax-exempt, eligible for the nonprofit through Texas law. Additionally, events are by invitation only for members, but a one-year membership is included in the ticket price.
"A couple will receive a MoWA family membership for one year and an individual will receive an individual membership. For those who are current members, we will extend their membership," Beauchamp said.
Whether people are long-time Western art collectors or just starting out, says Beauchamp: "You'll want to attend this show. Each artist has made every effort to provide us with an exhibition of over 100 pieces of high quality western art. We look forward to a very successful Roundup.
Combo event tickets are available for all events at $150 for an individual or $250 per couple. Individual event tickets are $75 for individuals; $125 for couples on Friday night or for the Saturday night sale, single tickets $125 and couples $225.
Details and listing information, as well as an online catalog of all Roundup art can be found on the museum's website, museumofwesternart.com.
Telephone reservations are accepted at (830) 896-2553.
The Museum of Western Art has been a Hill Country cultural icon since it opened in 1983.
It was recently honored for the second year as one of the best art museums in the west by True West Magazine.
The Museum of Western Art is located at 1550 Bandera Highway, Kerrville. museumofwesternart.com.